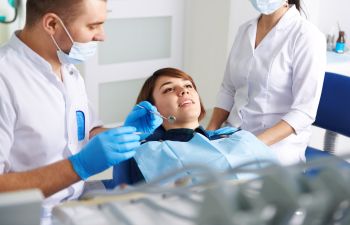 Many dental patients are under the assumption that dental sealants are only for adolescent teeth. While it is true that sealants are highly beneficial in the teeth of children at preventing cavities, they are also extremely beneficial for adults as well. Dental sealants protect the teeth from germs that cause tooth decay by "sealing out" damaging bacteria that destroys the tooth structure. At Muccioli Dental, we offer dental sealants for adult patients as a preventive procedure. Adult teeth are susceptible to damage and decay, just as children's teeth are, and dental sealants can protect the teeth so that they can last a lifetime.
Certain teeth are more vulnerable to cavities and decay than others. Teeth that have deep grooves and fissures have a higher risk for cavities. Molars and premolars are the most predisposed to cavities because the deep grooves in these teeth are harder to clean than the rest of the teeth in the mouth. Food particles and bacteria can become trapped in these grooves, and while brushing can help to remove particles, the bristles of a toothbrush are too large to fit into the grooves of the teeth. 85-90% of tooth decay begins in the grooves of the back teeth. By filling in these grooves and fissures with dental sealants, food particles and bacteria can not penetrate and cause decay.
At Muccioli Dental, we want to promote dental health to all of our patients. Healthy teeth are still at risk for cavities, and dental sealants are a simply and relatively inexpensive means to protect them from cavities and decay. Call our office today and ask about receiving adult dental sealants at your next appointment. The procedure is painless and quick, yet it has lasting results in promoting a beautiful and healthy smile.
Posted on behalf of Dr. Randy Muccioli, Muccioli Dental Circle Us on Google+
Muccioli Dental - Johns Creek Dentist
6300 Hospital Pkwy, Suite 275
Johns Creek, Georgia 30097
Phone: (678) 389-9955