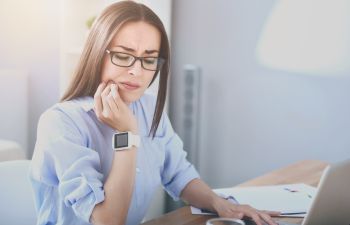 If you have ever had an aphthous ulcer in your mouth, you know firsthand how painful and uncomfortable this common condition can be. And, chances are good that you have experienced at least one aphthous ulcer in your lifetime and likely more than one. Statistics show that one out of three individuals experience an aphthous ulcer in his or her lifetime. So what is an aphthous ulcer? An aphthous ucler is a painful, inflamed lesion on the oral mucosa (lining, tongue or roof of the mouth). These are usually referred to simply as "ulcers".
In most individuals, an aphthous ulcer resolves on its own, after a period of time. However, in 2% to 10% of patients, these lesions recur and require medical treatment.
At this point, the cause of aphthous ulcers is not fully understood. For this reason, they can only be treated symptomatically. This is usually with a topical agent (ointment). However, in severe forms of the disease, the use of systemic medications may be necessary.
Although the exact cause is not fully known at this time, a number of predisposing factors have been identified including folic acid and vitamin B12 deficiencies. Muscosal injuries can also lead to aphthous ulcers.
If you experience an aphthous ulcer, you will want to avoid firm, acidic and salty foods as well as alcohol and carbonated beverages, until the ulcer has cleared. You may also want to rinse your mouth with warm salty water. This may help to speed the healing process. In addition, there are a variety of topical creams and even patches that can be used to ease the symptoms and increase your comfort.
If you have an aphthous ulcer that will not resolve on its own or if you have recurring aphthous ulcers, it is time to notify your physician. He or she can then run the appropriate tests to try to identify the cause, or at least prescribe treatment to help with the symptoms and prevent future ulcers.
Posted on behalf of Dr. Randy Muccioli, Muccioli Dental Circle Us on Google+
Muccioli Dental - Johns Creek Dentist
6300 Hospital Pkwy, Suite 275
Johns Creek, Georgia 30097
Phone: (678) 389-9955