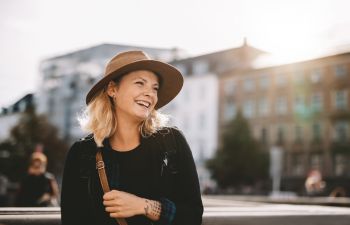 Muccioli Dental, located in Johns Creek, is a comprehensive dental practice that treats patients of all ages. As a part of our comprehensive dental plan, we are a trusted source for clear dental aligners. Muccioli Dental offers both the Insignia ClearguideTM Express Aligner system and the Simpli5TM Aligner System. Both of these innovative aligner systems can be used to help patients achieve a straighter, more beautiful smile without having to wear traditional metal braces. This is a major influencing factor for adults who do not wish to make it obvious that they are straightening their teeth.
Many adults feel self-conscious about their teeth, yet they also feel self-conscious about wearing braces. Dental aligners are a great alternative for adults who want to straighten their teeth without altering their appearance with traditional braces. Every year, many adults in the United States choose dental aligners as the method for straightening the teeth. Many patients have reported that no one has even noticed that they are wearing aligners because of the discreet method in which aligners work. Orthodontic tooth movement with clear aligners involves the fabrication of a series of incrementally different aligners for the top and bottom teeth. These aligners are typically changed every two to four weeks, and each new set is slightly different from the prior set to gradually shift teeth into place.
If you are interested in dental aligners to achieve a straighter smile, contact Muccioli Dental today. Patients with teeth that do not need significant changes to the bite are the best candidates for dental aligners. Drs. Randy and Lydia Muccioli are both currently accepting new patients. Your smile can be one that you are proud of, so call Muccioli Dental today.
Posted on behalf of Dr. Randy Muccioli, Muccioli Dental Circle Us on Google+
Muccioli Dental - Johns Creek Dentist
6300 Hospital Pkwy, Suite 275
Johns Creek, Georgia 30097
Phone: (678) 389-9955