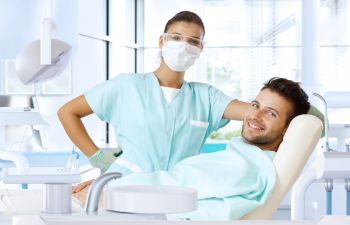 No emergency happens when it's convenient, does it? It seems as though emergencies are meant to keep us all on our toes and shock us into the reality of the moment. Dental emergencies can do just that. While the majority of dental emergencies happen to those who are actively participating in sports (and who are not wearing the proper protective mouth gear), dental emergencies can happen to people of all ages. Trauma to the teeth can be extremely upsetting to children and adults alike because we all understand that we only get one set of permanent teeth. At Muccioli Dental, we are fully equipped to handle all kinds of dental emergencies for patients of all ages.
Drs. Lydia and Randy Muccioli understand that dental emergencies require quick treatment, and that is why we will make every effort to get you into our office and treated as quickly as possible. If you have had a tooth knocked out, call us immediately! Pick up your tooth up by the crown (do not touch the roots of the tooth), place it in a cup with your own saliva or milk, and bring it with you to our office. If you have had another type of tooth trauma, please call us. Even if your tooth has not been knocked out, the tooth itself and/or its root could be damaged and need treatment. Both Dr. Lydia Muccioli and Dr. Randy Muccioli have extensive training and knowledge in handling dental emergencies, and they offer their expertise right alongside their compassion.
If you are looking for a dental practice to rely on in Johns Creek or you need emergency dental care, call Muccioli Dental. We are the reputable and caring dental practice that offers services for all members of your family. We are currently accepting patients and we accept most dental insurances as well as several other types of payment. Call today for more information. We look forward to serving you with the highest standard of dental care.
Posted on behalf of Dr. Randy Muccioli, Muccioli Dental Circle Us on Google+
Muccioli Dental - Johns Creek Dentist
6300 Hospital Pkwy, Suite 275
Johns Creek, Georgia 30097
Phone: (678) 389-9955