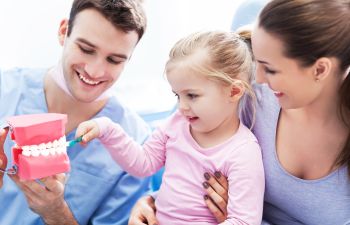 Muccioli Dental is a family dental practice that serves patients of all ages. We welcome infants who have their first emerging teeth, children who are in the process of losing their baby teeth and growing permanent ones, and adults young and old. One of the best methods of preventive care for children's teeth is the application of dental sealants. Dental sealants protect the grooved and pitted surfaces of the teeth, especially in the molar where most pediatric cavities are found. At Muccioli Dental, we offer dental sealants for all patients, and we encourage parents to have them applied to their children's teeth as a great barrier against cavities and decay.
Dental sealants are made of clear or shaded plastic in a liquid form. This plastic substance is applied to the back teeth and then hardened with a special light. The process is quick and painless, and it can be done right after a dental cleaning and checkup. Dental sealants are checked every visit to make sure that they are withstanding normal wear and tear from chewing and talking. Drs. Randy and Lydia Muccioli, as well as the dedicated and professional staff, have great experience with dental sealants and protecting children's teeth.
Muccioli Dental offers a full range of general, preventive, pediatric, and advanced dental care to help all of our patients achieve a healthy and beautiful smile. If you live in the Johns Creek or Alpharetta area and are looking for a dental practice that you can trust for your entire family's dental care, trust the caring professionals at Muccioli Dental. Our office accepts most forms of dental insurance and we are an in-network provider for many major dental health insurance plans. Call today to set up your family's appointments.
Posted on behalf of Dr. Randy Muccioli, Muccioli Dental Circle Us on Google+
Muccioli Dental - Johns Creek Dentist
6300 Hospital Pkwy, Suite 275
Johns Creek, Georgia 30097
Phone: (678) 389-9955