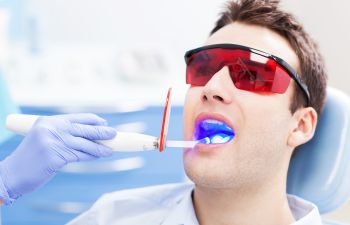 Esthetic dentistry refers to the field of dentistry concerned especially with the appearance of the dental restoration as achieved through its arrangement, form, and color. Many people are unhappy with the appearance of their teeth. Perhaps they keep their hands in front of their mouths when smiling or laughing, only give "closed lip" smiles for the camera, or perhaps they are too self-conscious to smile at all. At Muccioli Dental, we are dedicated to helping those who are dissatisfied with their smile to achieve an improved, beautiful one. The caring dentists and entire dental team at Muccioli Dental are committed to our patients' long-term dental health and esthetic results.
There are many different procedures available through esthetic dentistry, but the most common are teeth whitening, Invisalign invisible braces, tooth colored fillings, veneers, dental implants, crowns, and bridges. While some of these procedures are simple and promote immediate results, others require time and commitment to fully gain their benefits. At Muccioli Dental, Drs. Lydia and Randy Muccioli offer their professional training, expertise, knowledge, and experience to help patients choose the most appropriate and beneficial procedures to achieve the desired results. Featuring and on-site dental laboratory that is staffed with highly trained laboratory technicians, many of our dental fabrications are created on-site. This gives our dentist the advantage of being hands-on during the fabrication process and allows for direct communication while any dental restorations are being made.
Muccioli Dental is pleased to be the reputable dental practice in Johns Creek that offers the most advanced esthetic dentistry services available. Call our practice today to schedule a consultation to determine which procedures will achieve the healthy, more beautiful smile that you desire.
Posted on behalf of Dr. Randy Muccioli, Muccioli Dental Circle Us on Google+
Muccioli Dental - Johns Creek Dentist
6300 Hospital Pkwy, Suite 275
Johns Creek, Georgia 30097
Phone: (678) 389-9955