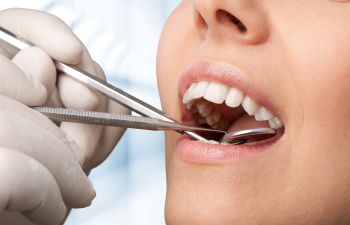 Perhaps no other time in a woman's life is more exciting than pregnancy. Of all of the things to plan and think about, it is often understandable that oral health gets put on the back burner. However, an expectant mother's oral health is a vital part of a healthy, full-term pregnancy. One of the most significant changes that occur in a pregnant woman's body is the levels of hormones throughout those nine months. When the hormones fluctuate at drastic levels, blood flow increases. The blood flow that increases and reaches the mouth often causes red, swollen, tender gums that bleed easily and are irritable. This is commonly referred to as "pregnancy gingivitis."
They symptoms of pregnancy gingivitis are the same as regular gingivitis, yet this condition tends to go away quickly after giving birth. However, it is the time during pregnancy when this form of gum disease poses significant threats to the mother and her unborn baby. Gum disease during pregnancy can cause high risks and issues such as:
Preeclampsia, a serious pregnancy related high blood pressure
Miscarriage
Preterm labor
Low birthweight babies
Stillbirth
Understanding the dire links between gum disease and these serious concerns will help you make your oral health a priority. There are precautions that you can take to minimize or eliminate pregnancy gingivitis in order to protect your growing baby's development and your health. Here are easy steps you can implement:
Visit your dentist regularly. If you are prone to gingivitis, additional dental cleanings will be very beneficial.
Floss every single day
Reduce sugary and starchy foods
Gargle with salt water or an approved mouthwash
Brush your teeth after every meal, and brush your teeth after vomiting
At Muccioli Dental, Drs. Lydia and Randy Muccioli offer exceptional and safe dentistry services for all patients. For expectant mothers, we understand the specific needs that you require to protect your oral health and your growing baby. Please contact us today to schedule an appointment. We look forward to serving you.
Posted on behalf of Dr. Randy Muccioli, Muccioli Dental Circle Us on Google+
Muccioli Dental - Johns Creek Dentist
6300 Hospital Pkwy, Suite 275
Johns Creek, Georgia 30097
Phone: (678) 389-9955