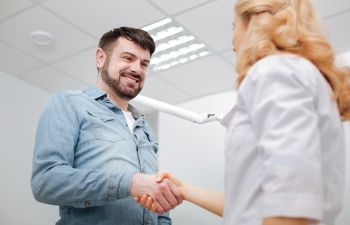 Gum disease is the inflammation and infection of the gums within the mouth that should never be ignored. Gum disease is caused by plaque buildup on the teeth that is not removed. Plaque is made up of harmful bacteria that contaminate the gums, causing infection that compromises the integrity of the entire mouth. Gum tissues support the teeth. When gums become infected they weaken and become sick, eventually infecting the entire mouth and causing tooth loss. At Muccioli Dental, Drs. Lydia and Randy Muccioli offer comprehensive dental care to prevent and treat gum disease in patients of all ages.
Prevention is the most valued key against all diseases. Gum disease is easily preventable with excellent oral hygiene. Brushing twice a day and flossing every single day are critical components in the fight against gum disease. Brushing removes plaque buildup from the outer surfaces of the teeth, and flossing removes plaque and food particles from between the teeth. As simple as it sounds, the most effective way to prevent gum disease is within everyone's reach. However, not everyone is dedicated to maintaining proper oral hygiene.
The first signs of gum disease are red, irritated, and swollen gums. This early stage is reversible with specialized treatment by a dental professional. Yet, if gum disease is not treated in its earliest stage it can lead to serious, irreversible damage.
At Muccioli Dental we care about the complete oral health of you and your family. If you are suffering from gum disease or are simply looking for a family dental practice to trust, Muccioli Dental in Johns Creek would be honored as your choice for comprehensive and personalized dental care. Call today to set up an appointment, and be on your way to a beautiful, healthy smile.
Posted on behalf of Dr. Randy Muccioli, Muccioli Dental Circle Us on Google+
Muccioli Dental - Johns Creek Dentist
6300 Hospital Pkwy, Suite 275
Johns Creek, Georgia 30097
Phone: (678) 389-9955