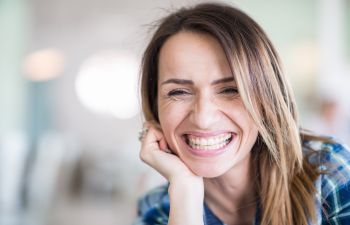 At Muccioli Dental, we know that not everyone is not a fan of traditional braces, yet just about everyone is a fan of a straight and beautiful smile. That is why Muccioli Dental is proud to offer Invisalign invisible braces as part of our cosmetic dental treatments. One of the greatest benefits of Invisalign is that most people will never know that someone is wearing the aligners. Invisalign uses an innovative orthodontic system that enables people to get straighter teeth using a series of clear aligners. These thin aligners fit comfortably over the teeth and move them gently into the desired position.
Drs. Lydia and Randy Muccioli are certified Invisalign providers and have had a great deal of experience using this orthodontic treatment to help patients achieve their desired smiles. While traditional wire and metal braces are still needed for those with serious bite problems and severe misalignment, Invisalign can be used to treat a variety of more complicated dental issues. Advancements in aligner technology now make it possible for Invisalign to correct malocclusion, overbite, underbite, and more.
Many adults prefer Invisalign aligners to traditional braces because they are not noticeable while they speak and interact with other people, especially those in the work place. If you are an adult who wishes to correct your smile in the most inconspicuous way, call Muccioli Dental today to schedule an Invisalign consultation with one of our knowledgeable, caring, and experienced dentists. Most people are good candidates for Invisalign aligners, so call today to schedule an appointment and be one step closer to the smile you have always dreamed of.
Posted on behalf of Dr. Randy Muccioli, Muccioli Dental Circle Us on Google+
Muccioli Dental - Johns Creek Dentist
6300 Hospital Pkwy, Suite 275
Johns Creek, Georgia 30097
Phone: (678) 389-9955