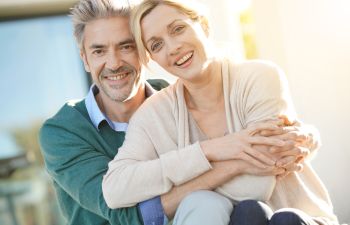 Professional teeth cleanings are recommended for every person over the age of two. Oral health is dependent on two factors: a person's willingness to care for his or her teeth at home and the commitment to visit the dentist every six months for an oral exam and professional cleaning. Even the most diligent patients cannot reach every area in their mouths where plaque builds up and leaves behind harmful tartar. Tartar makes the teeth very vulnerable to decay and periodontal disease, therefore, it needs to be thoroughly removed on a regular basis. A six-month exam will not only prevent oral diseases, but it will also give the dentist an on-going look at patients' mouths and any issues that arise.
A dental cleaning procedure does not need to be a scary experience. At Muccioli Dental, we do our best to provide our patients with a caring, warm, and relaxing environment. A teeth cleaning usually involves three simple steps:
Scaling – This is when the dental hygienist removes hard calculus from the teeth by gently scraping them with a special tool called a scaler. This is the time of the appointment that some patients "fear," but there is no need to. For patients who have a good oral hygiene routine at home of brushing and flossing daily, they can talk through the procedure and generally relax. Removing the calculus buildup (called tartar) from the teeth is essential to preventing tooth decay and gum disease.
Polishing – During this step, a rotary toothbrush is used in conjunction with a flavored, abrasive paste. Polishing removes minor stains on the surface of the teeth and leaves the teeth with a smooth surface that is less likely to hold onto plaque and oral bacteria.
Oral exam – Throughout the cleaning procedure the hygienist will look over the mouth as a whole. The tongue, cheeks, roof of the mouth, teeth, and gums will also be evaluated for any signs of trouble. If anything questionable turns up, Dr. Muccioli will address it with the patient.
Most patients find that dental cleanings are easy to tolerate. Keeping a commitment to at home dental care is the first step in assuring that their dental cleanings will be as easy as possible. Making the commitment to routinely see the dentist is the second step in assuring that optimal oral health is achieved.
Posted on behalf of Dr. Randy Muccioli, Muccioli Dental Circle Us on Google+
Muccioli Dental - Johns Creek Dentist
6300 Hospital Pkwy, Suite 275
Johns Creek, Georgia 30097
Phone: (678) 389-9955