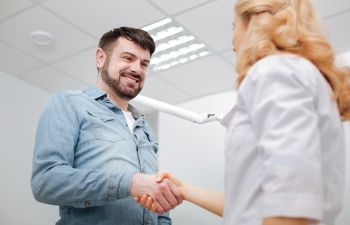 The American Dental Association recommends that everyone visit the dentist at least once a year (more preferably, every six months) to get a routine examination of the mouth and a professional dental cleaning. By promoting optimal oral health, people are also promoting overall good health. Many diseases and infections begin in the mouth. Because the tissue inside of the mouth (gums, linings of the teeth, the tongue) are all living and adapting organs, they can carry infections and bacteria from the mouth to other areas inside the body through the blood system. What may start as an ulcer under the tongue can become infected and send the infection to the heart or other vital organs through the blood stream. Therefore, by keeping regular dental cleaning appointments a priority you are not only helping to keep your smile healthy, but your entire body as well.
At a dental cleaning, a dentist or dental hygienist will clean the teeth thoroughly by using special instruments to remove plaque and tartar buildup from the teeth. Muccioli Dental features a highly trained and experienced general dentist, Dr. Lydia Muccioli, who provides state-of-the-art dental care to all patients. Once the teeth have been thoroughly cleaned, Dr. Muccioli will carefully examine the mouth to look for signs of any oral health problems such as gum disease, tooth decay and oral cancer. By keeping regular dental cleanings a priority and by partnering with Muccioli Dental, our patients can help to ensure that they achieve optimal oral health.
If you are looking for a reputable and caring dentist in the Johns Creek area, you can trust the dedicated dentists and dental staff at Muccioli Dental. Our top priority is your oral, and overall, health, and regular dental cleanings are the best place to start.
Posted on behalf of Dr. Randy Muccioli, Muccioli Dental Circle Us on Google+
Muccioli Dental - Johns Creek Dentist
6300 Hospital Pkwy, Suite 275
Johns Creek, Georgia 30097
Phone: (678) 389-9955