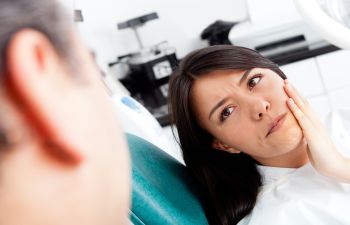 Unfortunately, most emergencies do not happen at convenient times. Dental emergencies are no different. However, at Muccioli Dental, we understand that dental emergencies tend to occur at the most inopportune times. Pain from dental emergencies can be incredibly severe and very disruptive to your schedule. That is why we make ourselves available to provide emergency dental care when our patients need it most.
At our office, we are fully equipped to handle many different kinds of dental emergencies. Whether you have a cracked, broken or chipped tooth, or you are in need of an emergency root canal or extraction, our dedicated staff is here to help. Drs. Lydia and Randy Muccioli are caring and compassionate dentists who provide premium dentistry to all of our patients. Because most dental emergencies involved pain, we work hard to provide a relaxing and comfortable environment to all of our patients. Dr. Randy Muccioli is a specially trained prosthodontist who provides advanced restorative dental services. You can be assured that no matter your dental emergency, at Muccioli Dental we can restore your smile and relieve your pain and discomfort.
If you are in the Johns Creek area and need emergency dental care, contact Muccioli Dental today. We accept new patients and always welcome in those who we have treated before. You do not have to live with the discomfort of a dental emergency. We set aside time in our schedules every day for dental emergencies, and we are happy to help you find the relief you need.
Posted on behalf of Dr. Randy Muccioli, Muccioli Dental Circle Us on Google+
Muccioli Dental - Johns Creek Dentist
6300 Hospital Pkwy, Suite 275
Johns Creek, Georgia 30097
Phone: (678) 389-9955