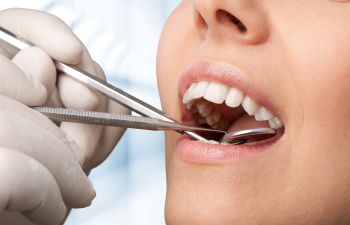 You may have heard the word "Prosthodontics" or seen it on advertisements for dental practices or on dental websites but are not really sure what it means. If this is the case, you are not alone. This important area of dental specialty is often overlooked and misunderstood.
Prosthodontics is one of nine dental specialties recognized by the American Dental Association. A Prosthodontists is a dentist who specializes in the aesthetic restoration and replacement of teeth. This specialized field of dentistry requires an additional two to three years of training focused on complex treatment planning, aesthetic restorations and laboratory experience in fabricating dental restorations. This additional training provides Prosthodontists with a unique understanding of the dynamics of a smile, the preservation of a healthy mouth, and the fabrication of tooth replacements. According to the American College of Prosthodontics, a Prosthodontist is "the skilled architect who can restore optimum function and appearance to your smile".
So why would you want to visit a Prosthodontist? You may want to seek treatment from a qualified Prosthodontist if you are missing one, several or all of your teeth or if you are interested in dental implants. You may also want to visit a Prosthodontist if you wear partial or complete dentures or are interested in improving the appearance of your smile. A Prosthodontist is highly qualified to provide a variety of advanced aesthetic and restorative dental procedures including crowns and bridges, inlays/onlays, porcelain veneers, removable complete and partial dentures, denture relines and repairs, treatment for traumatic injuries to the mouth, treatment for congenital or birth anomalies, oral cancer reconstruction, TMD treatments, sleep disorder treatments, dental implants, dental implant supported crowns, bridges and complete dentures, and full mouth rehabilitation.
Dr. Randy Muccioli of Muccioli Dental in Johns Creek is an ADA trained and accredited Prosthodontist. Muccioli Dental serves the residents of north Georgia with expert Prosthodontics including complete implants dentistry. If you are interested in replacing missing teeth or improving the form and/or function of your smile, please call Muccioli Dental today to schedule a consultation.
Posted on behalf of Dr. Randy Muccioli, Muccioli Dental Circle Us on Google+
Muccioli Dental - Johns Creek Dentist
6300 Hospital Pkwy, Suite 275
Johns Creek, Georgia 30097
Phone: (678) 389-9955