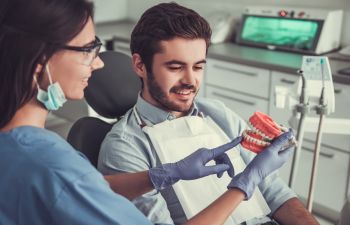 An implanted supported denture is a type of over denture that is supported by and attached to implants. Regular dentures are removable and rest on the gums, where as implant supported dentures are permanent fixtures in the mouth that are surgically inserted. Implant supported dentures are used when a person does not have any teeth in the jaw, but has enough bone in the jaw to support the implants. These implants must have adequate bone structure for the special attachment to be inserted into the jaw and then hold the dentures in place.
Implant supported dentures are a secure option to replace the teeth because they eliminate the risk for slipping, popping and falling out. No denture adhesive creams are needed to hold them into place, therefore, they are easier to adapt to than dentures that rest upon the gums. Implant supported dentures provide patients with a stable tooth option. Patients find that it is easier to speak and chew. They do not have to worry about their dentures falling out of their mouths and they are typically able to eat foods that they could not with regular dentures. Of course, as with any artificial tooth replacement, hard and sticky foods can damage the denture and thus, should be avoided.
The comprehensive dental office of Muccioli Dental features Dr. Randy Muccioli who is a prosthodontic specialist. His training in complex tooth replacement and restoration makes him uniquely qualified to offer implant supported dentures for patients with advanced dental needs. If you are looking for a dental practice to trust for your advanced dental restoration needs, call Muccioli Dental to set up a consultation appointment. You can begin your journey to a beautiful smile as soon as you contact us.
Posted on behalf of Dr. Randy Muccioli, Muccioli Dental Circle Us on Google+
Muccioli Dental - Johns Creek Dentist
6300 Hospital Pkwy, Suite 275
Johns Creek, Georgia 30097
Phone: (678) 389-9955