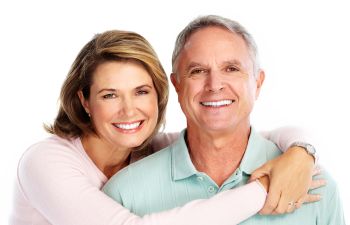 Dental implants are a revolutionary tooth replacement system that has helped many patients around the world to regain their confidence and the ability to eat the foods they want and to eat, laugh, speak and smile with confidence. If you are missing one, several or all of your teeth, you may be wondering if you are a candidate for dental implants. Fortunately, there is a good chance that you are! There are very few reasons that would rule you out for this procedure and most people with missing teeth are able to receive dental implants.
Dental implants take the place of missing tooth roots and can provide support for crowns, fixed bridges and dentures. The process involves inserting a prosthetic screw into the jawbone and then allowing the jawbone to heal. When the healing process takes place, the prosthetic screw is firmly integrated into the bone in a process call osseointegration. Once osseointegration has occurred, replacement teeth can then be attached to the implants. The result is replacement teeth that look, function and feel like natural teeth.
Dental implants have a very high success rate and hold many advantages over other tooth replacement options. Although the cost is higher than dentures or bridges, for many people, it is well worth the extra cost. Dental implants can improve your confidence, appearance, dental health and overall quality of life and that is a significant return on investment!
Muccioli Dental is pleased to offer complete implants dentistry to the residents of Johns Creek and the surrounding areas. If you are interested in dental implants to replace one, several or all of your teeth, please call our office today to schedule a consultation with our Prosthodontic specialist, Dr. Randy Muccioli.
Posted on behalf of Dr. Randy Muccioli, Muccioli Dental Circle Us on Google+
Muccioli Dental - Johns Creek Dentist
6300 Hospital Pkwy, Suite 275
Johns Creek, Georgia 30097
Phone: (678) 389-9955