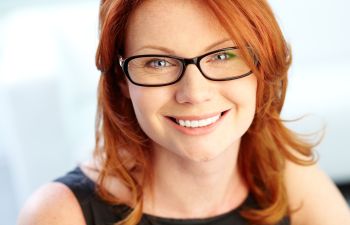 For many people, when they think of orthodontics, braces are the first thing that come to mind. Perhaps they recall their own metal brackets or those of their friends growing up through adolescence and visualize a mouth full of silver metal. Luckily, today orthodontics is much more than just braces. Orthodontia is the art of correcting the position of the teeth by understanding what has caused them to arrive at their current position and what future movement is needed to achieve an optimal bite.
Many adults in the past have shied away from orthodontics because they did not want to have to live with a mouth full of metal braces for two years. As adults, they find that they are in front of their peers on a regular basis — whether through work or through their professional lives — and they feel uncomfortable with the idea of braces as an adult. Thankfully, there is a new method of straightening the teeth for many adults. A clear aligner system is a comfortable and effective method of straightening the teeth. Many people find that they are the only ones who know that they have aligners in because they do not alter their appearance, making them almost invisible to co-workers, friends, even family.
Muccioli Dental is your trusted source in Johns Creek for clear dental aligners. Drs. Lydia and Randy Muccioli offer both the Insignia Clearguide Express Aligner system and the Simpli5 Express Aligner system. Both of the innovative systems can help adults achieve the beautiful, straight smile they have always wanted.
If you are interested in clear aligners, call Muccioli Dental today. We can help you find that beautiful smile, and we can be your trusted dental source.
Posted on behalf of Dr. Randy Muccioli, Muccioli Dental Circle Us on Google+
Muccioli Dental - Johns Creek Dentist
6300 Hospital Pkwy, Suite 275
Johns Creek, Georgia 30097
Phone: (678) 389-9955