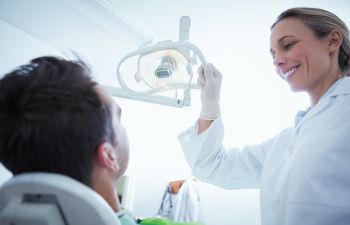 To cut to the chase, a Prosthodontist is an expert in the restoration and replacement of teeth – she or he makes smiles look beautiful and function the way they should. Muccioli Dental is pleased to offer advanced prosthodontics to all of our patients.
For most people, losing permanent teeth can be a traumatic experience. Whether it is from aging, an accident or gum disease, missing teeth can cause people to feel very self conscious about their smiles. Severe self consciousness can cause some people to have depression and a negative outlook on life. Muccioli Dental is here to help those who need prosthodontic care. Dr. Randy Muccioli is uniquely qualified to produce a variety of cosmetic, aesthetic and restorative dental services to enhance anyone's smile. From crowns and bridges, porcelain veneers, complete and partial dentures, inlays and onlays, genetic disfigurations, cancer reconstruction, and more – Dr. Muccioli provides patients with options to regain confidence in their smiles.
Many people feel self conscious about their missing teeth, but they do not also know that gaps in the teeth cause the exposed gums to weaken and become prone to infections. By replacing, filling or capping missing teeth, Dr. Randy Muccioli offers not only an aesthetic solution to missing teeth, but also an oral health solution that will benefit the entire mouth.
If you or a loved one has missing teeth, call Muccioli Dental tday for a consultation to see what options are available. Dr. Muccioli and the entire staff at Muccioli Dental care about you as a person and they care about the health of your mouth. We offer superior prosthodontics on a single missing tooth or a full mouth rehabilitation. Don't wait any longer – call today!
Posted on behalf of Dr. Randy Muccioli, Muccioli Dental Circle Us on Google+
Muccioli Dental - Johns Creek Dentist
6300 Hospital Pkwy, Suite 275
Johns Creek, Georgia 30097
Phone: (678) 389-9955