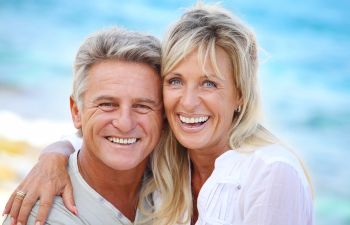 There is a good chance that you have heard the word "Prosthodontics" before, however, do you really know what it means? Prosthodontics refers to a specialty area of dentistry that focuses on restorative and cosmetic dentistry. Prosthodontists are certified by the American Board of Prosthodontists after successfully passing a rigorous examination. This certification requires an additional three years of training beyond dental school in a university or hospital-based advanced education program that is accredited by the American Dental Association (ADA).
Prosthodontists are specially trained in restorative and cosmetic dental procedures including dentures, dental implants, crowns, bridges, veneers and teeth whitening. If you have a missing tooth or multiple missing teeth, you may want to seek the services of an accredited Prosthodontists. This is because Prosthodontists are the recognized experts when it comes to replacing anything in your mouth. Additionally, through this additional training, Prosthodontists stay up-to-date with the latest, most advanced restorative and cosmetic dental procedures.
In addition to replacing and restoring teeth, Prosthodontists are also qualified to provide a number of other dental services including maxillofacial prosthetic procedures, treatment for TMD, TMJ or other jaw joint problems, treatment for traumatic injuries, treatment for snoring and sleep disorders and treatment for cleft palates and other congenital conditions.
If the services you require are out of the scope of expertise of your family dentist, he or she may refer you to a Prosthodontics. Or, you may seek the services of a Prosthodontists on your own. It is easy to find a listing of accredited Prosthodontists in your local area by looking on the American Board of Prosthodontists website (www.prosthodontics.org). If you are in need of restorative or cosmetic dental services, find a Prosthodontists in your local area. After a thorough evaluation, a certified Prosthontists can recommend the most appropriate treatment to restore the form and function of your smile.
Posted on behalf of Dr. Randy Muccioli, Muccioli Dental Circle Us on Google+
Muccioli Dental - Johns Creek Dentist
6300 Hospital Pkwy, Suite 275
Johns Creek, Georgia 30097
Phone: (678) 389-9955