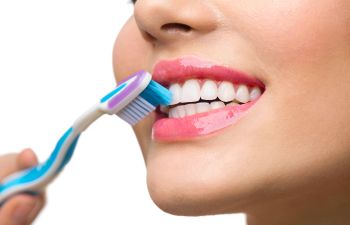 What dentists want most for their patients to understand is that we are in a partnership together. At Muccioli Dental, Drs. Lydia and Randy Muccioli offer all of our patients state-of-the-art amenities and use only the highest rated materials for all of our dental treatment procedures. However, our patients' experience is always greatly enhanced when they understand that the healthiest mouth begins at home. Here at Muccioli Dental, we want to partner with you so that your mouth is clean, healthy, and beautiful.
A proper oral hygiene routine at home consists of brushing the teeth at least twice a day. Also adding in flossing can only help to promote someone to "star dental patient!" Brushing is an essential part of keeping the mouth clean. It goes beyond just freshening the breath before a big date or an important interview. Brushing removes damaging bacteria inside the mouth.
When people eat food, bits of food are inevitably left in the mouth between the teeth. Regular brushing helps to remove those food particles so that they do not damage the teeth. When food particles are left in the mouth, especially sugary or starchy particles, they begin attracting bacteria. These bacteria work overtime to attach to these particles, and when the bacteria are not removed they form plaque on the teeth. Plaque buildup causes the gums to become infected, and it can lead to tooth decay and periodontal disease. Once the teeth have begun to decay there is no reversal to this. Therefore, preventing tooth decay is extremely important to those who wish to keep their permanent teeth permanently.
Dental checkups are not always the favorite to-dos on a busy schedule. However, by brushing properly and regularly at home between visits, patients find that their dental checkups are much easier. There is less need for scraping plaque and tartar from the teeth because much of it has been removed with proper oral hygiene.
At Muccioli Dental, we are dedicated to helping our patients find the value in taking care of their teeth. We are committed to keeping our end of the partnership by guiding them towards a healthy and beautiful mouth. So keep brushing, and enjoy your next dental checkup!
Posted on behalf of Dr. Randy Muccioli, Muccioli Dental Circle Us on Google+
Muccioli Dental - Johns Creek Dentist
6300 Hospital Pkwy, Suite 275
Johns Creek, Georgia 30097
Phone: (678) 389-9955