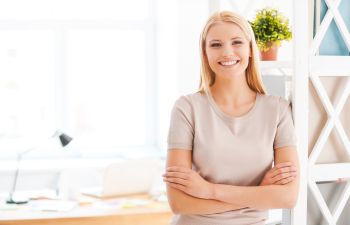 At Muccioli Dental, we understand that a professional teeth whitening treatment can better give you the desired results you are looking for in a brighter, whiter smile.There are many options available over the counter for people to use at-home to whiten their smiles. These home whitening systems by law must use a low-does bleaching agent since a dentist does not monitor their effects. However, an in-office whitening treatment takes place under carefully monitored conditions, allowing for a safe, controlled, effective and painless administration.
Drs. Randy and Lydia Muccioli are teeth whitening dentists that you can trust to help you achieve the beautifully white smile that you desire. At Muccioli Dental, we are concerned with our patients' oral health and with our in-office whitening treatments, we are able to offer the safest form of teeth whitening. We are also able to offer great improvement to patience whose teeth have stains and discolorations. Age plays a large role in the color of the teeth. As people age, their teeth darken; this discoloration can be whitened so that they teeth appear younger and brighter. Teeth that are stained from coffee, soft drinks, red wine, and tobacco use can also be whitened with our in-office whitening treatments.
Muccioli Dental is a family dental practice and we are currently accepting new patients of all ages. If you are looking for a dental practice to call your family dentist, or if you are searching for the most effective teeth whitening treatments in Johns Creek, look no further than Muccioli Dental. We are your teeth whitening specialists and we look forward to helping you achieve the smile of your dreams.
Posted on behalf of Dr. Randy Muccioli, Muccioli Dental Circle Us on Google+
Muccioli Dental - Johns Creek Dentist
6300 Hospital Pkwy, Suite 275
Johns Creek, Georgia 30097
Phone: (678) 389-9955