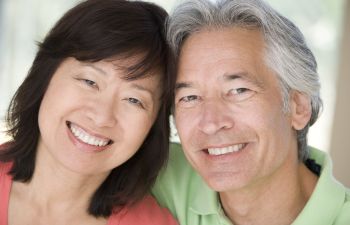 Porcelain veneers are thin pieces of porcelain used to recreate the natural appearance of the teeth. With their strong bond to the natural teeth, they can also provide strength and resilience comparable to natural tooth enamel. Porcelain is now the most preferred choice of veneer material because porcelain veneers do not require as much tooth reduction as traditional veneers. Porcelain veneers are used to make slight position alterations, and to change the shape, size, and/or color of the teeth. At Muccioli Dental, we are proud to provide our patients with porcelain veneers in order to transform their smiles into the radiant, beautiful smile that they dream of having.
At Muccioli Dental, we feature an on-site dental laboratory staffed with highly trained dental lab technicians. These lab technicians work side by side with Dr. Randy Muccioli to fabricate custom porcelain veneers that are as natural looking as possible. Our on-site lab allows us to perform custom staining on the spot so that the porcelain veneers are as closely matched to the natural teeth as possible. Also, by working hand in hand with our lab technicians, Dr. Muccioli is able to ensure that the fit of the veneers is spot on to ensure the highest quality and customized fit and appearance.
Many people feel embarrassed and self-conscious about their stained, gapped, misaligned, misshaped, or malformed teeth. With the highest quality porcelain veneers available at Muccioli Dental, we are committed to helping all of our patients achieve the healthiest and most beautiful smile possible. Our practice is currently accepting new patients, and we would be proud to be the dentist you trust to restore beauty, function, and strength to your mouth. Call today for more information or to schedule an appointment.
Posted on behalf of Dr. Randy Muccioli, Muccioli Dental Circle Us on Google+
Muccioli Dental - Johns Creek Dentist
6300 Hospital Pkwy, Suite 275
Johns Creek, Georgia 30097
Phone: (678) 389-9955