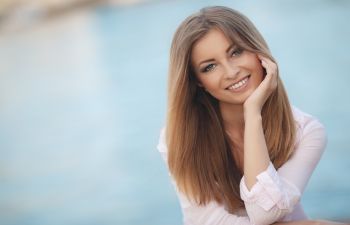 White fillings, also known as composite resin fillings, allow teeth to be filled and rebuilt utilizing more aesthetically pleasing materials. Many people are unhappy with the appearance of their silver amalgam fillings and are having them replaced with tooth colored fillings. Some people are very concerned over potential health risks from having mercury amalgam fillings inside their mouths. If you are having problems related to your amalgam fillings or simply want to replace them with tooth colored fillings, contact Muccioli Dental today.
Muccioli Dental features Dr. Randy and Lydia Muccioli who are both highly trained to provide dental fillings as well as a full range of restorative dental services. At Muccioli Dental we use only the highest rated materials for all of our dental treatments to ensure the highest quality of care for all of our patients. Tooth colored fillings are natural in appearance and are constructed of high quality materials such as porcelain, composite, and ceramic resin. These materials help to make white fillings last for many years, while also enhancing a person's smile.
Replacing silver amalgam fillings with white fillings takes the skill and expertise offered at Muccioli Dental. Many times, decay has formed under the amalgam fillings because metal expands and contracts with hot and cold (think coffee and iced tea). With white fillings, a stronger bond is formed to the teeth so that decay cannot develop once the filling is placed and sealed.
If you are interested in replacing silver amalgam fillings with white fillings, please contact Muccioli Dental today. Our practice is currently accepting new patients. We are committed to restoring the form, function, and beauty of your smile.
Posted on behalf of Dr. Randy Muccioli, Muccioli Dental Circle Us on Google+
Muccioli Dental - Johns Creek Dentist
6300 Hospital Pkwy, Suite 275
Johns Creek, Georgia 30097
Phone: (678) 389-9955