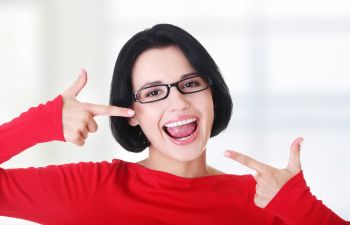 If you are like most people today, you desire whiter teeth. This is why teeth whitening is currently the most requested cosmetic dental service. This is also why you see a myriad of commercials advertising products that can help you achieve whiter teeth. From toothpastes to whitening strips to mouthwashes, there are a lot of products on the shelf today that claim to whiten your teeth. However, the American Dental Association recommends whitening your teeth under the supervision of a qualified dentist. This will help you to obtain optimal results while at the same time limiting your risk of damaging your teeth.
If your teeth are stained due to the normal aging process or ingesting foods and beverages such as coffee, tea, red wine and berries, you may be able to achieve whiter teeth using a take-home whitening kit. These kits are available at most dental offices and contain whitening trays that can be worn over your teeth as well as a whitening solution to place in the tray. If you desire a more immediate result, you may be interested in an in-office tooth whitening solution that uses a whitening solution as well as a special light. This procedure can be completed within about an hour and can get teeth many shades lighter just in this short period of time.
If your tooth discoloration is due to smoking, other tobacco use, trauma or the result of medications you took as a child, you may need to pursue other whitening options. In some cases, the take-home kits and in-office whitening procedures are not completely effective on these types of discoloration. In this case, you can consider placing a cap over one or more teeth that are severely discolored. If all of your teeth are severely discolored, you can consider porcelain veneers to cover the teeth in the front that show when you smile.
A whiter smile can take years off of your appearance and give you greater confidence and self-esteem. If you are currently unhappy with the appearance of your smile, contact a qualified cosmetic dentist in your local area today to find out your available options for tooth whitening.
Posted on behalf of Dr. Randy Muccioli, Muccioli Dental Circle Us on Google+
Muccioli Dental - Johns Creek Dentist
6300 Hospital Pkwy, Suite 275
Johns Creek, Georgia 30097
Phone: (678) 389-9955