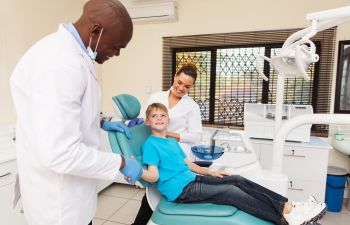 Mouth guards are dental coverings for the teeth to protect them from injury during sporting events or from teeth grinding. Adults and children who play contact sports should use mouth guards for protection, and even those sports that are considered "non contact" like gymnastics or biking should consider wearing a mouth guard. Protecting the teeth goes a long way in oral health as well as general health. A healthy mouth can deter many health issues, and protecting the permanent teeth should always be a priority. Protecting the teeth from grinding is also highly important because of the long-term damage and side effects that it can cause. At Muccioli Dental we offer our patients customized mouth guards to protect their teeth comfortably while playing sports or while sleeping.
Mouth guards can help prevent mouth related injuries to children and adults. It is important to protect the developing mouths of children to ensure that they continue to grow teeth properly. It is especially important for adults to protect their permanent teeth, as these are the only permanent teeth that they will have. Broken teeth, nerve damage to a tooth, or tooth loss are all serious complications that can lead to severe oral health issues. A customized fitted mouth guard is an essential piece of equipment for those participating in any sporting activity or for those who grind their teeth.
In Johns Creek, Muccioli Dental is the dental practice that you can trust for a customized mouth guard. Our family owned and operated dental practice serves all of our patients with care and respect and with the gentleness that everyone deserves when visiting the dentist. We are currently accepting new patients, so please call today to set up an appointment to a mouth guard to protect your teeth.
Posted on behalf of Dr. Randy Muccioli, Muccioli Dental Circle Us on Google+
Muccioli Dental - Johns Creek Dentist
6300 Hospital Pkwy, Suite 275
Johns Creek, Georgia 30097
Phone: (678) 389-9955