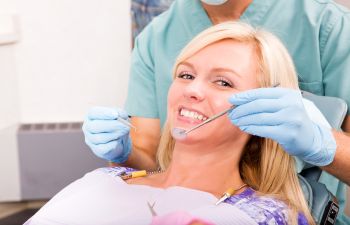 Although the teeth are made up of one of the hardest materials in the human body, not all teeth last a lifetime. Accidents, injuries, periodontal disease, and medications can all contribute to tooth loss in adults. Though missing teeth may be cause for being upset, people have options for replacing missing teeth so that they can have a complete, healthy, and fully functioning smile. At Muccioli Dental, we are dedicated to helping all of our patients achieve the smile that they desire and a smile that is healthy and fully functioning. Teeth are needed every day for eating, speaking, and smiling. For those with missing teeth we have options for replacing teeth that can work for just about anyone.
Dental Implants:

Dental implants are a revolutionary permanent tooth replacement solution. Implants are surgically placed in the jawbone that look, feel, and function like natural teeth. We have an in-house dental laboratory that allows for direct communication between our dentists and lab technicians to ensure the highest quality for dental restorations.

Implant Supported Dentures:

Implant supported dentures are more secure than traditional dentures because they eliminate the possibility for falling out, slipping, and popping in the mouth. These are a fixed solution to replace missing teeth.

Dental Bridges:

Dental bridges are placed in the mouth to replace one or more missing teeth. Dental bridges fix crowns onto adjoining natural teeth and then place the false tooth or teeth between the teeth, which are attached to the crowns. Dental bridges are relatively stable, eliminating the risk of slipping while eating or talking.
If you would like more information about your options for replacing missing teeth, please contact Muccioli Dental in Johns Creek. Our dentists are highly trained and equipped to provide the highest quality replacement options to our patients.
Posted on behalf of Dr. Randy Muccioli, Muccioli Dental Circle Us on Google+
Muccioli Dental - Johns Creek Dentist
6300 Hospital Pkwy, Suite 275
Johns Creek, Georgia 30097
Phone: (678) 389-9955