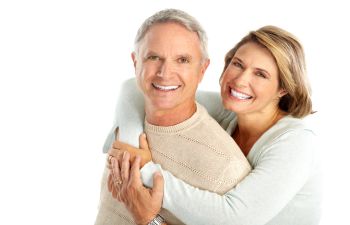 Tooth restorations are ways in which a dentist can replace or restore missing or damaged teeth or tooth structure. Injuries and accidents are often the causes of needing tooth restorations. However, decay, gum disease, and deterioration are also common reasons for tooth restorations. At Muccioli Dental, Dr. Randy Muccioli is a skilled and highly qualified dental restoration dentist who provides patients with tooth restorations and full mouth rehabilitation procedures. A mouth is healthiest when it is complete, and Muccioli Dental is dedicated to healthy mouths.
There are different procedures for dental and tooth restorations.
Fillings are the most common type of dental restorations. Cavities are cleaned out and are filled with silver amalgam or tooth-colored materials to protect the teeth from decay.
Crowns are "caps" that are placed over teeth that have been damaged or have decay. Crowns restore the shape, size, strength, and appearance of the teeth. Crowns are also used to hold dental bridges in place.
Bridges are false teeth used to "bridge the gap" created between missing teeth. Bridges are anchored in the mouth by crowns that hold them permanently in place.
Dental Implants are false teeth that are permanently placed in the mouth. They have "roots" that are implanted into the bone sockets where there are missing teeth. These "roots" are covered with a crown and offer an aesthetically pleasing appearance in the mouth.
Root Canals are tooth replacement treatments used to save infected or decaying teeth. The nerve and pulp of the teeth are removed and the area is filled to prevent decay from spreading to the gums and other teeth.
Muccioli Dental features an on-site dental laboratory staffed with highly trained and qualified technicians. This allows for most of our restorations to be fabricated on site so that Dr. Muccioli is able to have a hands-on role during the fabrication process. If you are looking for a customized approach for tooth restorations, call Muccioli Dental today to schedule your appointment.
Posted on behalf of Dr. Randy Muccioli, Muccioli Dental Circle Us on Google+
Muccioli Dental - Johns Creek Dentist
6300 Hospital Pkwy, Suite 275
Johns Creek, Georgia 30097
Phone: (678) 389-9955