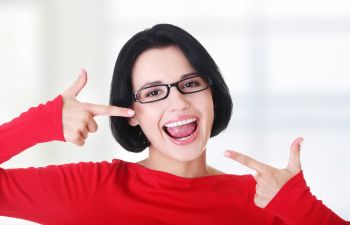 Silver amalgam fillings were used for years as the best option for filling cavities in the teeth. There have been other materials used for filling the teeth such as gold and porcelain, but for most dental patients, silver amalgam fillings were the most common choice. However, in the last ten years a more popular option is on the rise among dentists and their patients – tooth-colored fillings (or white fillings.) These composite fillings are made of both plastic and glass, and this mixture is used to restore decayed teeth. White fillings are on the rise as more and more patients care about the aesthetic appearance of their smiles.
Silver amalgam fillings are very noticeable within the mouth. When speaking or laughing, those dark fillings are easy to spot. Aesthetics are the main advantage of white fillings since they can be customized to match the exact color of a patient's actual tooth. These composite fillings work just like a silver amalgam filling by bonding to the tooth to support the remaining tooth structure. Although in the past these white fillings have tended to wear out sooner than metal fillings, the improvements in composite fillings are helping them to last longer. Insurance companies are also beginning to pay a higher percentage of the coverage of white fillings as their popularity and longevity increases.
If you are in need of having a cavity filled and are interested in a composite filling, please contact Muccioli Dental today. Drs. Lydia and Randy Muccioli are caring, highly trained dentists who provide white fillings as well as comprehensive and restorative dental services. Your smile can be restored to its full health and beauty with white fillings at Muccioli Dental. We look forward to restoring your smile!
Posted on behalf of Dr. Randy Muccioli, Muccioli Dental Circle Us on Google+
Muccioli Dental - Johns Creek Dentist
6300 Hospital Pkwy, Suite 275
Johns Creek, Georgia 30097
Phone: (678) 389-9955