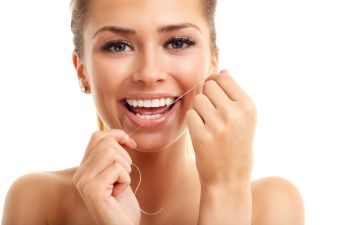 When it comes to dreaded questions, hearing the dentist ask, "Have you been flossing?" is one of the most dreaded. However, what dentists everywhere wish their patients understood is that in addition to dental cleanings and checkups, flossing is one of the most important things that anyone can do to promote proper health and hygiene. While brushing is also needed to keep the teeth clean, flossing goes beyond the surface cleaning that brushing offers. Flossing the teeth removes the buildup of plaque, which can turn into tartar, which can lead to infections that can travel in the blood stream and cause serious damage to the heart, kidneys, and even the brain. It is essential that people maintain healthy oral hygiene habits such as visiting the dentist regularly for a professional cleaning and exam, brushing at least twice a day, and remembering to floss every day.
At Muccioli Dental, we want our patients to understand that without flossing, cavities can begin forming in between the teeth where toothbrushes cannot reach. We are dedicated to help all of our patients learn proper flossing techniques, if needed, to ensure that they are achieving the desired results from this daily habit. Regular flossing will help to keep the teeth looking bright, white, and shiny because there will not be the sticky, yellowish buildup of plaque around them.
Proper dental care includes both regular dental visits and good oral habits at home. Patients need to take the time to floss daily to keep the mouth clean and healthy. Muccioli Dental wants to partner with you in order to help you achieve the most beautiful smile possible. Our friendly staff is dedicated to offering individualized patient care, and we are currently accepting new patients. Call today.
Posted on behalf of Dr. Randy Muccioli, Muccioli Dental Circle Us on Google+
Muccioli Dental - Johns Creek Dentist
6300 Hospital Pkwy, Suite 275
Johns Creek, Georgia 30097
Phone: (678) 389-9955