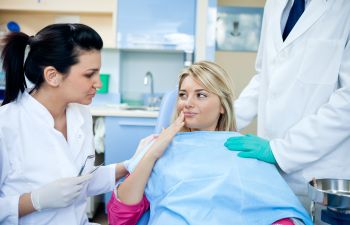 Our teeth are designed to last a lifetime. Unfortunately, this doesn't mean that they are invincible. Teeth damage can be acute or gradual. It can happen from a sudden accidental injury or years of poor oral hygiene. While there are many restorative solutions in dentistry to repair a damaged tooth, there are times in which a root canal, filling, crown or other treatment simply can't save the tooth. In some cases, the damaged tooth may be putting the entire mouth at risk, making it best to simply remove the adult tooth.
At Muccioli Dental, we never offer a tooth extraction as the first line of treatment. We do everything we can to save permanent teeth. However, there are situations that warrant an extraction, which may or may not be within your control.
Here are seven some common reasons why tooth removal is necessary:
Severe decay
Aggressive infection
Large break or fracture beneath gum line
Baby tooth that refused to come out
Crowding/orthodontic reasons
Advanced periodontal disease
Impacted wisdom tooth
If your dentist suggests a tooth extraction, you can be confident that it is in the best interest of your overall smile. An extraction is also nothing to worry about. Thanks to modern techniques and sedation dentistry, tooth removal is not a painful or lengthy procedure. You will be given specific post-operative instructions to minimize discomfort and accelerate healing at home. Unless the extraction involved a baby tooth, wisdom tooth or orthodontic crowding, there's a good chance you'll also need to consider tooth replacement. Dental implants are the most preferred solution for replacing a missing tooth. An implant can help you avoid shifting adjacent teeth, bone loss and the aesthetic threats of a missing tooth.
To schedule your tooth extraction with a gentle and skilled dentist, please call Muccioli Dental. During your procedure, you can take advantage of our unique amenities for a pleasant experience, such as warm scented towels, headphones for music or television viewing, soothing hand treatments and a beverage bar.
Posted on behalf of Dr. Randy Muccioli, Muccioli Dental
Muccioli Dental - Johns Creek Dentist
6300 Hospital Pkwy, Suite 275
Johns Creek, Georgia 30097
Phone: (678) 389-9955