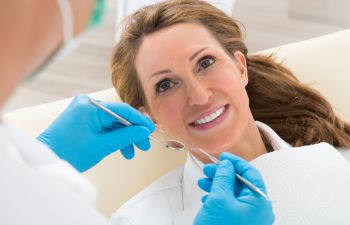 Many dentists promote themselves as cosmetic dentists because they offer a few procedures that can enhance the appearance of a person's smile. However, the American Dental Association only recognizes two dental specialties that predominately focus on dental cosmetics/esthetics: Prosthodontics and Orthodontics. At Muccioli Dental, we are proud to offer true cosmetic dental procedures to our patients through both Dr. Lydia and Dr. Randy Muccioli who have both earned advanced training and recognition in prosthodontics and cosmetic surgery. Drs. Lydia and Randy Muccioli have the credentials required to call themselves cosmetic dentists, and they have the heart to serve their patients and help them achieve their best smiles.
There are many categories that fall under the term cosmetic dentistry. While some are simple and offered at most dental practices, there are some that require the specialization of a true cosmetic dental practice in order to be provided. At Muccioli Dental, we are proud to offer the following cosmetic and esthetic dental services:
Dental bridges
Dental crowns
Dental Implants
Dentures
Full mouth rehabilitation
Implant supported crowns
Invisalign invisible braces
Porcelain veneers
Teeth whitening
Tooth colored fillings
Our practice features an on-site dental laboratory staffed with highly trained lab technicians in order that many dental fabrications can be created on site. This allows both Dr. Lydia and Dr. Randy Muccioli to be involved from the beginning to the end of any cosmetic procedure to ensure that the highest quality standards are reached.
If you are in the Johns Creek or surrounding areas and are looking for a dental practice to trust for your smile makeover, please call Muccioli Dental. We offer the specialization of true cosmetic dentistry, and we look forward to helping you achieve a healthier and more beautiful smile.
Posted on behalf of Dr. Randy Muccioli, Muccioli Dental
Muccioli Dental - Johns Creek Dentist
6300 Hospital Pkwy, Suite 275
Johns Creek, Georgia 30097
Phone: (678) 389-9955