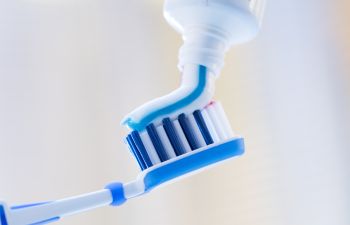 Your toothbrush is one of the most important hygiene items that you own. It should be used twice a day for two minutes each time. When used correctly, your toothbrush can scrub away stains, eliminate harmful bacteria and remove food debris before oral health problems set in. In result, your toothbrush is your most powerful weapon against cavities, gum disease and bad breath. How well are you taking care of your toothbrush?
If you are not properly caring for your toothbrush in between uses, you could be doing more harm than good inside your mouth. It is important to know how to clean and sanitize your toothbrush as well as where to store it and when to throw it away. Follow these toothbrush care tips and protect your smile health:
Always Rinse. When you are done brushing, rinse your toothbrush with tap water to remove food debris and residual toothpaste before your next brushing session.
Store Correctly. Did you know that your toothbrush needs to be stored at least six feet away from your toilet to prevent airborne bacteria travel? It is also best to keep your toothbrush upright and in an open container so that bacteria doesn't have a chance to breed.
Know When to Replace. Your toothbrush should be replaced every 3-4 months or when the bristles start coming off, bending or fraying.
Don't Share. If you share your toothbrush with your child, spouse or roommate, you risk the transfer of oral bacteria, which could lead to cavities or sickness.
Avoid Sanitizing Agents. It's simply not necessary to soak your toothbrush in mouthwash or other sanitizing agents that could be toxic. Air drying your bristles kills bacteria just fine.
Have more questions about caring for your toothbrush or which toothbrush is best for your dental needs? Contact Muccioli Dental. We are happy to consult with you about optimal oral hygiene!
Posted on behalf of Dr. Randy Muccioli, Muccioli Dental
Muccioli Dental - Johns Creek Dentist
6300 Hospital Pkwy, Suite 275
Johns Creek, Georgia 30097
Phone: (678) 389-9955