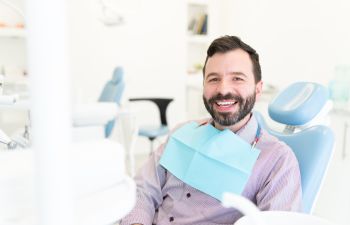 Do you fear dental treatments due to a severe gag reflex? If you have struggled to get the dental care you need because your gag reflex is extra sensitive, you'll be happy to know that Muccioli Dental can help. Not only do we understand your condition but we have many successful tactics to ensure you receive comfortable and stress-free dental care despite your severe gag reflex.
Gag reflexes are normal and natural for people of all ages. It is your body's response to prevent choking. However, when a gag reflex is easily triggered, it can make dental visits very stressful. Dental care requires that instruments are placed inside the mouth, which can press on the tongue or back of the mouth. Extra saliva and restriction of movement can cause some patients to gag or choke, which is both scary and uncomfortable. If you have a sensitive gag reflex, it can be hard to relax during dental procedures.
Let us Calm Your Reflex and Care for Your Smile
Often the key to limiting gag reflex is relaxation. Those with severe gag reflex can become hyper-focused on what is happening inside their mouth, making them even more prone to gagging. Sedation is one option to help you relax, shifting your focus and keeping you calm during your dental treatments. Other options can include sitting upright during exams or cleanings to limit the amount of salvia and swallowing needed that can trigger a gag reflex. We can work with you to find the right solution to ensure you are comfortable during your visits, so you can maintain a healthy smile and overall wellness.
Do not let a sensitive gag reflex keep you from a beautiful, healthy smile. Our team at Muccioli Dental in Johns Creek offers relaxing, gentle dental care for our patients with a severe gag reflex as well as those who have trouble getting numb, mental/physical disabilities or other special needs. Contact us today to learn more about our specialized options for a comfortable dental visit.
Posted on behalf of Dr. Randy Muccioli, Muccioli Dental
Muccioli Dental - Johns Creek Dentist
6300 Hospital Pkwy, Suite 275
Johns Creek, Georgia 30097
Phone: (678) 389-9955