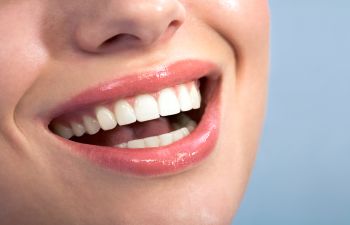 Were you born with imperfect teeth? Have your front teeth have become chipped, stained or crooked over time? You may be surprised to learn that a perfect smile is within reach. With the cosmetic dental solution of porcelain veneers, patients can transform their unsightly teeth into the smile they've always wanted. Most importantly, veneers do not demand lengthy or invasive dental procedures. In fact, you can get your new smile in as little as 2-3 office visits!
What are Porcelain Veneers?
Veneers represent a comprehensive aesthetic dental restoration that addresses a wide range of superficial dental flaws on the front teeth. They consist of wafer-thin shells of porcelain that are securely bonded on the front surfaces of the affected teeth. In this way, they cover or hide a multitude of imperfections on the teeth that are visible when you smile. Veneers are custom fabricated in size, shape and color to fit your personal smile goals. In order for the veneer to stay in place for years to come, a small portion of enamel must be shaved off before placing them. This makes this cosmetic procedure irreversible – yet we rarely meet a patient who regrets this smile transformation.
What Can Veneers Fix?
There are several reasons why patients want to cover up their smile or avoid selfies with friends. Fortunately, porcelain veneers can be an excellent solution for most of these reasons. Veneers can address the following imperfections of the front teeth:
Wide spacing
Staining
Cracks or Chips
Teeth that are too small or missized
Misshapen teeth
Slightly crooked teeth
When Veneers Are Not Best
There are certain situations when porcelain veneers are not recommended or should not be chosen just yet. Since veneers are purely cosmetic, the health and function of your teeth are a top priority. If you have cavities, gum disease or TMJ problems from a bad bite, these issues will need to be addressed before getting veneers. In addition, if you have a teeth grinding habit or thin tooth enamel, your porcelain veneers may not be successful.
At Muccioli Dental, we work hard to make sure every patient has the opportunity to achieve a smile they are proud of. We proudly offer a full menu of general and restorative dental procedures as well as cosmetic dental services that promote a confident and beautiful smile. If you'd like to learn more about your candidacy for porcelain veneers, please call our Johns Creek office today.
Posted on behalf of Dr. Randy Muccioli, Muccioli Dental
Muccioli Dental - Johns Creek Dentist
6300 Hospital Pkwy, Suite 275
Johns Creek, Georgia 30097
Phone: (678) 389-9955