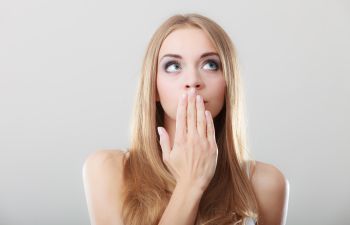 Bad breath is the last thing you want to deal with during this busy holiday season. Whether it is attending the office cocktail party, sharing a meal with family and friends or attending services at your church or Synogogue, the holiday season is full of social interactions. If you suffer from chronic bad breath, it can make these interactions stressful and unpleasant. So, how can you ensure that your breath stays fresh this holiday season? Read on to find out.
The best way to keep your breath fresh is to practice good daily oral hygiene. Plaque is one of the prime causes of bad breath. Brushing and flossing thoroughly each day to prevent bacteria from building up is one of the best ways to prevent plaque. When you brush your teeth, you want to make sure to brush your tongue as well. If your toothbrush is not effective for brushing your tongue or causes you discomfort, you can purchase a tongue scraper. A tongue scraper is a tool that was developed specifically for the purpose of removing bacteria and other substances from the surface of the tongue.
Another way to manage bad breath is to avoid the foods that cause bad breath. If you are going to attend a social function, you want to avoid foods like garlic and onions. Even if you brush your teeth after eating these foods, you can still breathe them out from your lungs.
Smoking is also a common cause of bad breath. There is no easy way around this one. Quitting is the best thing you can do. Smoking also makes you more likely to develop oral cancer: a very serious and sometimes deadly form of cancer. For these reasons and more, there has never been a better time to quit smoking than right now! If you need help quitting, talk to your doctor about how to make this process easier.
Rinsing your mouth after eating and keeping your mouth moist can also go a long way in keeping your breath fresh. If you do not have time to rinse your mouth, you can chew sugar-free gum. This will freshen your breath and stimulate your mouth to produce saliva.
Hopefully, these tricks will help you manage your breath so you can relax and enjoy your social interactions with family and friends this holiday season. However, if you have tried these tricks and still experience chronic bad breath, it may be a sign of a more serious dental health problem. Schedule an appointment with your dentist today.
Posted on behalf of Dr. Randy Muccioli, Muccioli Dental Circle Us on Google+
Muccioli Dental - Johns Creek Dentist
6300 Hospital Pkwy, Suite 275
Johns Creek, Georgia 30097
Phone: (678) 389-9955