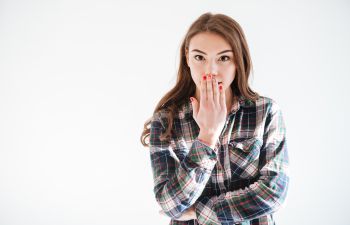 Bad breath plagues everyone from time to time. A pungent meal, hormone changes, and drainage from a cold can all negatively impact your breath. However, some people suffer from chronic bad breath that affects their lives on both personal and professional levels. Your dentist is your best advocate in dealing with bad breath, and most cases of bad breath can be drastically improved through simple changes in lifestyle habits.
Tips for dealing with bad breath:
Practice good oral hygiene. The first step in combatting issues with bad breath is by taking proper care of your oral health. Flossing and brushing daily are essential. On any given day, there are millions of bacteria living inside your mouth that need to be flossed and brushed away. If you neglect your oral health on a regular basis, you are allowing bacteria to take up permanent residence inside your mouth and cause your breath to stink.
Stop all tobacco use. Smoking, chewing tobacco, or occasionally indulging in any type of tobacco product only causes negative effects. Tobacco is well known for causing serious health issues, including cancer. Tobacco also has its own very strong smell, and this smell lingers for hours inside the mouth. The strong odor combined with the damage that tobacco use causes, leaves behind a very unhealthy mouth.
Avoid odorous foods and beverages. Garlic, onions, cheeses, wine, alcohol, and coffee are notorious for causing stinky breath. These foods and beverages leave a residue behind inside the mouth, causing their odors to linger for hours. Avoiding these is the only guaranteed way to keep them from negatively impacting your breath, however, that is not always the ideal solution. Brushing your teeth and rinsing with mouthwash after consuming odorous foods and beverages will help to mask the smell.
Stay hydrated. A dry mouth is a stinky mouth. The mouth is supposed to naturally produce saliva to help keep bacteria at bay. If the mouth is dry, it is allowing bacteria to decay inside the mouth and cause bad breath.
Visit your dentist often. Making regular dental visits a priority will go a long way in improving your bad breath. Your dentist is your best source for finding an optimal solution. Professional cleanings are often all that are needed for fresher breath.
Muccioli Dental is here for all of your oral health care needs. Call us today.
Posted on behalf of Dr. Randy Muccioli, Muccioli Dental
Muccioli Dental - Johns Creek Dentist
6300 Hospital Pkwy, Suite 275
Johns Creek, Georgia 30097
Phone: (678) 389-9955