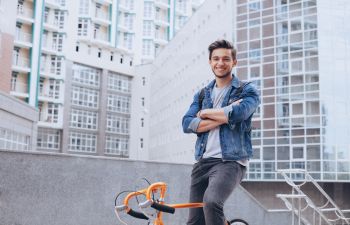 Muccioli Dental is a comprehensive dental practice with a prosthodontist who specializes in placement, restoration and repair of dental implants. Perhaps no other advancement in modern dentistry has changed the way in which a person's mouth is restored. Dental implants have provided millions of Americans with a permanent solution for their missing teeth without the hassle and embarrassment of wearing dentures.
Dental implants have two parts: the anchor and the crown. The anchor is surgically implanted into the jawbone so that it becomes a permanent fixture within the mouth. Once it has healed, a crown is placed on the anchor so that the smile is restored. Dental implants look, function, and feel just like natural teeth, and they have been a huge relief to so many who are self conscious about their missing teeth.
Muccioli Dental features an on-site dental laboratory staffed with talented dental laboratory technicians. This on-site laboratory allows Drs. Lydia and Randy Muccioli to have direct communication with the technicians to ensure that expert quality is given to all of our patients' restorations. Dental implants are a revolutionary tooth replacement solution that provides patients with a permanent and natural looking smile restoration. If you wish to replace a missing tooth (or teeth) and would like more information regarding dental implants, please contact Muccioli Dental today to schedule a consultation. We look forward to helping you achieve a fully restored and beautiful smile.
Posted on behalf of Dr. Randy Muccioli, Muccioli Dental
Muccioli Dental - Johns Creek Dentist
6300 Hospital Pkwy, Suite 275
Johns Creek, Georgia 30097
Phone: (678) 389-9955