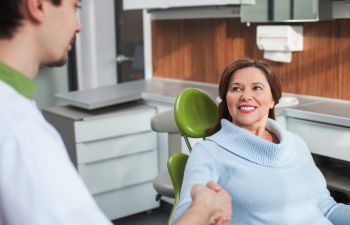 Routines are specific plans put into action to help you achieve certain goals. Routines that are developed but not implemented do not do much good, so it is always best to keep routines simple so that they are easily carried out. Just as a good exercise routine will help you reach and maintain a healthy weight, a good dental routine will help you achieve and maintain optimal oral health. You only receive one set of permanent teeth in your lifetime; therefore, taking care of them each day will help to ensure that they last. Developing a good dental routine is not difficult, and implementing it requires little time from your day.
Below are the necessary components of a good dental routine:
Floss daily. Flossing the teeth is the most important element of at-home dental care, yet it is also the most neglected. Flossing is essential to your oral health because it is the only tool designed to clean the tight spaces from between the teeth where food particles and plaque become trapped. Toothbrush bristles are not designed to clean these areas, so if you are only brushing, then you are leaving portions of your teeth dirty on a daily basis.
Brush at least twice a day. Brushing the teeth is important because it loosens plaque from the surfaces of the teeth. Using a fluoride tooth paste helps to protect the teeth from cavities and decay, and it also helps to keep the breath smelling fresh.
Rinse your toothbrush well. It is important that you take the time to rinse your toothbrush well after each use. Bacteria will become trapped in the bristles of your toothbrush, so rinsing it off under fast, running water will help to wash bacteria away.
Replace your toothbrush often. Even with proper rinsing, bacteria will multiply and grow on the toothbrush. It is recommended that you replace your toothbrush every 3-6 months.
Visit the dentist regularly. Even with proper at-home dental care, your teeth still need to be professionally cleaned and examined on a regular basis. Deep cleanings help you keep your teeth clean between visits, and dental exams help your dentist identify concerns early before they cause irreversible damage.
At Muccioli Dental we are here to help you achieve and maintain optimal oral health. We encourage you to develop a good dental routine that you consistently implement. Contact us today to schedule an appointment.
Posted on behalf of Dr. Randy Muccioli, Muccioli Dental
Muccioli Dental - Johns Creek Dentist
6300 Hospital Pkwy, Suite 275
Johns Creek, Georgia 30097
Phone: (678) 389-9955