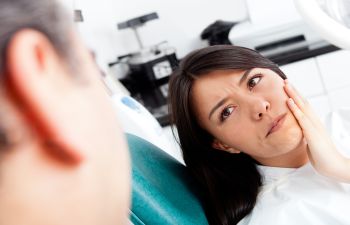 Accidents are never welcome, but they do happen. When unexpected trauma or injury occurs in the mouth, it can be especially frightening. Whether you woke up with a sudden toothache or your child bumped his front teeth on the monkey bars, it is not always easy to determine whether you need an emergency dental visit. Tooth pain or tooth trauma always warrants a call to the dentist. The question is: does your dental concern need to be addressed within days or within hours?
What is Considered a Dental Emergency?
Dental pain is common. In fact, according to American Family Physician, about 22 percent of people have experienced dental or oral pain in the last six months. At Muccioli Dental, we never want patients to be in pain or suffer through dental trauma longer than they need to. In general, the following situations deserve urgent attention and an emergency dental visit:
Severe pain
Knocked out (lost) tooth
Dental abscess or infection
Persistent bleeding in the mouth
Toothache with fever or swelling
What Isn't a Dental Emergency?
There are also times in which your dental concern can wait for 1-3 days to be addressed by a dentist. Typically, your dentist may want to schedule an appointment with you within the week if you suffer the following:
Chipped or cracked (non-painful) tooth
Lost crown or fillings
Toothache with no sign of infection
Your Trusted Emergency Dentist in Johns Creek
Never assume that your dental problem can wait. If your teeth suffered damage or if you are experiencing sudden discomfort, call our Johns Creek office. We can accurately determine whether you can wait or you need to be seen immediately. Our dentists are skilled in all facets of dentistry, and we are confident we can restore your smile and comfort the way you deserve.
Posted on behalf of Dr. Randy Muccioli, Muccioli Dental
Muccioli Dental - Johns Creek Dentist
6300 Hospital Pkwy, Suite 275
Johns Creek, Georgia 30097
Phone: (678) 389-9955