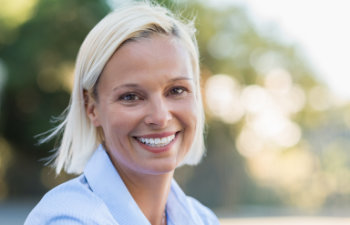 Are you tired of hiding your smile due to dental issues that seem too overwhelming to tackle individually? Have you experienced dental problems that impact your overall oral health and self-confidence? If so, a full mouth rehabilitation might be the transformative solution you've been seeking. At Muccioli Dental in Johns Creek, we understand the importance of a healthy and beautiful smile, and we're here to guide you through the journey of full mouth rehabilitation.
What is Full Mouth Rehabilitation?
Full mouth rehabilitation, also known as full mouth reconstruction or full mouth restoration, is a comprehensive dental treatment that aims to restore the functionality, health, and appearance of the entire mouth. It involves a combination of various dental procedures and treatments tailored to address a range of dental issues, from tooth decay, worn-out teeth, and missing teeth to gum disease, malocclusion (bite problems), and more.
Unlike individual cosmetic or restorative dental treatments, full mouth rehabilitation takes a holistic approach, considering the entire oral cavity's condition and devising a customized treatment plan to achieve optimal results. It is a collaborative effort between you, the patient, and our team of experienced dental professionals at Muccioli Dental.
When is Full Mouth Rehabilitation Needed?
Several factors may indicate that you could benefit from a full mouth rehabilitation:
Multiple Dental Issues: If you are experiencing a combination of dental problems, such as tooth decay, gum disease, missing teeth, and dental erosion, full mouth rehabilitation can address all of these issues simultaneously.
Extensive Tooth Wear: Years of grinding or clenching your teeth (bruxism) can lead to significant wear on your enamel, affecting your bite and overall oral health.
Accidents or Trauma: Dental injuries resulting from accidents or trauma may require extensive restoration to regain the mouth's proper function and aesthetics.
Severe Dental Decay: Advanced decay in multiple teeth can compromise your oral health and necessitate a comprehensive solution.
Jaw Joint Problems: Temporomandibular joint disorder (TMJ) can cause jaw pain, headaches, and difficulty in eating, which can be treated as part of a full mouth rehabilitation plan.
Multiple Missing Teeth: If you have several missing teeth, it can lead to problems with chewing, speech, and self-esteem, and a comprehensive approach can help restore your smile.
The Full Mouth Rehabilitation Process at Muccioli Dental
We want our patients to know exactly what to expect when choosing Dr. Randy Muccioli for their full mouth reconstruction. Here's a general guide of each step of the process:
Comprehensive Examination: The first step in a full mouth rehabilitation is a thorough examination of your oral health. This may include digital x-rays, photographs, impressions, and discussions about your concerns and goals.
Personalized Treatment Plan: Based on the examination results, our dental experts will create a personalized treatment plan tailored to your specific needs. This plan will outline the procedures and treatments required to achieve the desired outcomes.
Prioritizing Treatment: The treatment plan will also prioritize the procedures based on urgency and importance. Some treatments may need to be completed before others to establish a strong foundation for the overall rehabilitation.
Treatment Phases: Full mouth rehabilitation often involves multiple phases of treatment, which may include restorative procedures like dental fillings, crowns, bridges, dental implants, and orthodontics to address bite issues. Cosmetic treatments like teeth whitening or veneers may also be incorporated for a stunning smile makeover.
Comfort and Communication: Throughout the process, we prioritize your comfort and encourage open communication. We will address any concerns you have and ensure that you understand each step of the treatment.
Final Result: Once the full mouth rehabilitation is complete, you will experience a transformed smile that not only looks beautiful but also functions optimally, allowing you to enjoy improved oral health and enhanced confidence.
Why Choose Muccioli Dental for Full Mouth Rehabilitation?
At Muccioli Dental in Johns Creek, we are committed to providing exceptional dental care to our patients. Our team of skilled professionals, led by Drs. Randy and Lydia Muccioli, has extensive experience in full mouth rehabilitation and offers the latest advancements in dental technology.
Our warm and welcoming environment, combined with personalized attention to each patient's needs, ensures that you feel comfortable throughout your treatment journey. We take pride in helping our patients achieve the smile they deserve, one that exudes confidence and positively impacts their overall well-being.
If you believe you could benefit from full mouth rehabilitation or have any dental concerns, don't hesitate to contact Muccioli Dental in Johns Creek. Our team is ready to guide you on the path to a healthier, more radiant smile!
Posted on behalf of Dr. Randy Muccioli, Muccioli Dental
Muccioli Dental - Johns Creek Dentist
6300 Hospital Pkwy, Suite 275
Johns Creek, Georgia 30097
Phone: (678) 389-9955