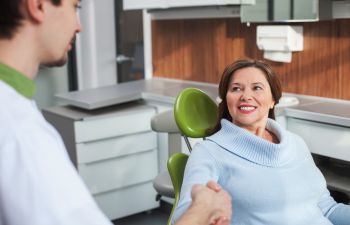 When we deal with our overall health, there are situations and concerns that lead your general physician to call on the help of a doctor who has the extra training and resources to provide better treatment, such as when you've been referred to a cardiologist, endocrinologist or other medical specialist. Your dental care is no different. While a general dentist can handle most of your oral health concerns, there are certain treatments that are best addressed by a dental specialist. Knowing when your treatment plan requires a dental specialist is important so that you can receive the best care and results possible.
What is a Prosthodontist?
A prosthodontist is a dentist who has completed dental school plus three additional years of advanced training and education in an ADA-accredited prosthodontic graduate program. Prosthodontists focus their career on diagnosing, treating and managing dental and facial problems that involve restoring missing tooth and jaw structures. Implant dentistry is a highlighted field of dentistry for a prosthodontist, but they are also exceedingly equipped to provide cosmetic dental services as well as crowns, bridges, dentures and temporomandibular disorders (TMJ/TMD) treatments.
Reasons You May Need a Prosthodontist
There are some key situations that warrant the skill and expertise of a prosthodontist, such as when you need the following:
Teeth replacement
Dental implants
Cosmetic dentistry
Complex care management involving multiple specialists
Complete and removable partial dentures
Special needs of geriatric patients
Children born with cleft palate or missing teeth
Temporomandibular joint syndrome/disorder
Traumatic injuries
Full mouth rehabilitation
Snoring and sleep disorders
Maxillofacial prosthetic procedures such as oral cancer reconstruction and continuing care
The Value of a Prosthodontist
When choosing an ADA recognized prosthodontist specialist for your dental treatment, you can have confidence in knowing their rigorous training and experience have equipped them with a keen understanding of how to create successful, long-lasting results using the most proven techniques and state-of-the-art technology available. If you need to replace missing teeth, it is a notable investment that will impact your appearance and well-being for the rest of your life – why not choose the best provider for your care?
At Muccioli Dental, we proudly have a team of talented prosthodontists who offer dental implants, crowns, bridges, dentures and more with the specialized care you deserve. Call now to book your appointment in Johns Creek.
Posted on behalf of Dr. Randy Muccioli, Muccioli Dental
Muccioli Dental - Johns Creek Dentist
6300 Hospital Pkwy, Suite 275
Johns Creek, Georgia 30097
Phone: (678) 389-9955