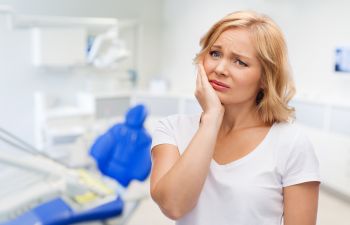 Dental problems aren't always predictable, but most of them need attention right away. If your dentist doesn't offer emergency, same-day dental services, you may need to reconsider who is caring for your smile. Muccioli Dental is proud to be a trusted sourced for emergency dentistry. Whether it is a sudden toothache or a chipped tooth, we understand how much a dental emergency can disrupt your day. We are here when you need us most. Simply call our office and we can ensure you are seen in the shortest, most necessary timeframe possible.
The Importance of Urgent Dental Treatment
Dental emergencies can be frightening and often painful. Prompt treatment is often necessary in order to save your natural tooth and eliminate your discomfort. Whether you have a severe toothache or a dental injury, neglecting to seek treatment for a dental emergency can pose a threat to both your smile and you overall health. As your Johns Creek emergency dentist, we do everything we can to handle urgent dental matters as quickly as possible. Our practice offers a complete menu of services ranging from general and restorative dentistry to cosmetic and implants dentistry. Therefore, we are confident that we can restore your smile to optimal function, form and aesthetics after a dental emergency.
Dr. Muccioli is an experienced and talented dentist who can treat teeth that have become fractured by trauma, grinding or biting on hard objects. We also see patients who have fillings, crowns and other restorations that have suffered damage or become loose. Regardless of what your dental emergency is or the level of pain you are experiencing, we want to see you promptly. Severe pain could indicate an infection that will only get worse if it is not properly treated.
What Types of Emergency Dental Problems Should Your Dentist Be Able to Treat?
Regardless of your age, gender or ethnicity, unexpected dental concerns can arise. Dental emergencies that we treat at Muccioli Dental Care include but are not limited to the following:
Severe tooth pain
Bleeding or swelling
Injury to the teeth and/or gums
Lost or cracked filling
A fractured tooth
Loose, broken or dislodged crown
Damaged dentures
If you need an emergency dentist in Johns Creek that can handle your unexpected dental concerns, call us today. We deliver the same relational and patient-centered approach to our emergency cases as we do to our routine exams.
Posted on behalf of Dr. Randy Muccioli, Muccioli Dental
Muccioli Dental - Johns Creek Dentist
6300 Hospital Pkwy, Suite 275
Johns Creek, Georgia 30097
Phone: (678) 389-9955