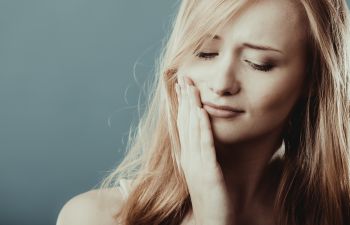 Does a twinge of tooth pain ruin your morning sip of coffee? Do you avoid ice cream with your family due to sensitive teeth? You are not alone. Teeth sensitivity is a common dental health problem, but not one you should ignore or just "live with."
If you experience sharp or wincing pain in your teeth when they come in contact with hot or cold temperatures, it is referred to as teeth sensitivity. The issue with sensitive teeth is that there are many different causes – some of which need immediate attention and others that do not. Treating your disruptive dental sensitivity, however, starts with determining your specific culprit.
Why are your teeth so sensitive? Muccioli Dental recommends you ask yourself the following questions to get a better idea on why your teeth are "talking back" after eating or drinking hot and cold substances.
Are you brushing too hard?
Do you frequently drink acidic drinks or sodas?
Are your gums receding?
Has it been years since you saw a dentist for cavity detection?
Do you grind your teeth during the night?
Have you recently used teeth whitening products?
What we are looking for with these questions is the presence of enamel damage. Tooth enamel is your outer layer of protection for your teeth. Unfortunately, this layer can weaken or erode due to bad dental habits or acidic foods and drinks. This can make the tooth more vulnerable and sensitive to the outside world – particularly hot cocoa, a popsicle or even the cold winter wind.
Need help finding more comfort in your smile? At Muccioli Dental, we don't want our patients to avoid certain foods and drinks due to sensitive teeth. Contact us today to schedule your consult and let us help!
Posted on behalf of Dr. Randy Muccioli, Muccioli Dental
Muccioli Dental - Johns Creek Dentist
6300 Hospital Pkwy, Suite 275
Johns Creek, Georgia 30097
Phone: (678) 389-9955