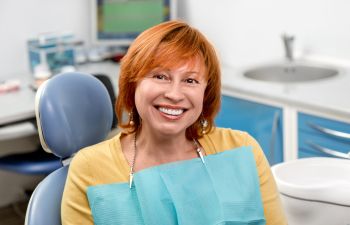 Malocclusion is the dental term used to describe a "bad" or incorrect bite, or when the top teeth do not fit properly on the bottom teeth when you bite down. There are many factors that can contribute to malocclusion, such as crowded teeth, crooked teeth or a misaligned jaw. While some cases of malocclusion may present cosmetic concerns, you should know that a "bad bite" also carries some significant risks to your dental health.
Depending on the type and class (severity) of your malocclusion, you may be more vulnerable to oral health issues like tooth decay, gum disease and TMJ disorder. Fortunately, orthodontic treatment is designed to correct improper bite alignment, whether you are a young teen or aging adult. In fact, even clear aligner options like Invisalign can address malocclusion.
Types of Malocclusion
There are four main types of malocclusion, and each type will be further categorized as Class I, II or III depending on the degree of severity. A trained dental specialist can determine which bite imperfection you may have.
Crossbite – one or more of your teeth are positioned behind the teeth in the opposite jaw.
Open Bite – space between your upper and lower front teeth.
Overbite – the upper teeth overlap with those in the lower jaw.
Underbite – the lower teeth overlap with those in the upper jaw.
The Ramifications Towards Your Oral Health
There are many setbacks that can be caused from a bad bite. The most common are cavities and gum disease, as these are conditions that develop when food particles become lodged between teeth and are not removed by normal brushing and flossing. Food can get stuck more easily due to crooked or crowded teeth but also when chewing is difficult and compromised. The buildup of bacteria and plaque set the stage for tooth decay and gum disease.
The TMJ is another facet of oral health that is greatly impacted by malocclusion. In fact, this is what brings many adults to seek bite correction with orthodontics. When the upper and lower teeth can't comfortably and properly fit together, it places excessive strain on the jaw joint (TMJ). Patients can suffer from pain, clicking or popping within the jaw when they try to open their mouth. TMJ disorder can be relieved by correcting a bad bite.
Do you suspect that your underbite, crossbite or overbite is contributing to your jaw pain or frequent cavities? Let us help. Muccioli Dental is a proud provider of Invisalign clear orthodontic treatment. Learn your candidacy today.
Posted on behalf of Dr. Randy Muccioli, Muccioli Dental
Muccioli Dental - Johns Creek Dentist
6300 Hospital Pkwy, Suite 275
Johns Creek, Georgia 30097
Phone: (678) 389-9955