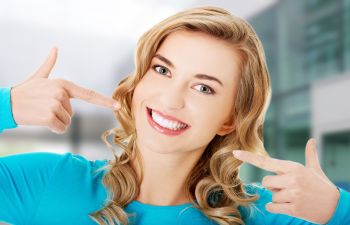 Professional teeth whitening is one of the most affordable services in cosmetic dentistry. Still, teeth whitening is an investment, and all investments are worth protecting – especially when it comes to your smile. Teeth whitening from a dentist can erase stubborn stains and lighten teeth by several shades in many cases. This is an easy, quick and painless cosmetic dental treatment, but the results are not permanent.
While teeth whitening can drastically brighten your smile, your teeth are not exempt from future staining and discoloration. Therefore, it becomes imperative that you know how to protect your teeth whitening results and get the most long-term return on your cosmetic dentistry investment.
Here are a few tips on how to retain your teeth whitening results and keep your smile sparkling for as long as possible:
#1 Be Aware of Foods and Drinks that Stain
The same foods and beverages that stained your teeth before your teeth whitening treatment can also discolor your smile afterwards. Take caution when consuming the following teeth-staining culprits:
Berries such as blueberries, blackberries, and raspberries
Soy sauce
Tomatoes and marinara sauces
Dark sodas
Coffee and black tea
Red wine
#2 Consistent Oral Hygiene Routine
Brushing your teeth twice a day is one of the best ways you can keep your white smile. You can even implement a whitening toothpaste to boost your stain-scrubbing efforts each day. Flossing at least once a day will remove the plaque and bacteria from in between your teeth, which can prevent dingy, unhealthy teeth.
#3 Learn Simple Tricks for Fighting Stains
You may not always have access to a toothbrush after you eat spaghetti or finish your morning coffee. Therefore, it is helpful to know you can still fight back against tooth stains. Consider these tips for whiter teeth on-the-go:
Use a straw when drinking dark-colored beverages
Rinse with water after your meals, drinks and snacks
Chew sugar-free gum between meals
#4 Regular Visits with Your Dentist
There is no cleaning like the cleaning you get from your dentist. Professional dental cleanings during routine dental visits include removing hardened plaque as well as stubborn stains. Your teeth are polished and carefully examined to ensure that an oral health problem doesn't sabotage your teeth whitening investment.
Schedule Your Teeth Whitening in Johns Creek!
At Muccioli Dental, we proudly offer one of the most proven teeth whitening systems available. Not only do we believe we can brighten you smile and improve your self-esteem, but we also know that we can help you retain your teeth whitening results after your treatment is complete. Call our Johns Creek office today to schedule your teeth whitening appointment!
Posted on behalf of Dr. Randy Muccioli, Muccioli Dental
Muccioli Dental - Johns Creek Dentist
6300 Hospital Pkwy, Suite 275
Johns Creek, Georgia 30097
Phone: (678) 389-9955