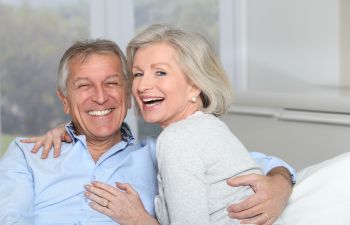 If you have traditional or removable dentures, you may notice that your prosthetic teeth fit less comfortably than they once did. This is not only common but also expected. The good news is that a simple and affordable
Denture Relines can typically remedy your loose or ill-fitting dentures. Don't dismiss the importance of denture relines, as they are a necessary part of your new smile maintenance.
Why are Relines Needed?
Traditional dentures rest against your gum line and are held in place by adhesive cream. Without a tooth root to stimulate it, however, the underlying bone and tissues can resorb into the body and lose their density and form. Over time, this causes the alveolar ridge (bone tissue that your dentures sits on) to change shape. A denture reline is a procedure that reshapes the underside of your denture to allow it to regain a better and more comfortable fit.
Hard Vs. Soft Relines
Relines are referred to as either "soft" or "hard," and can be performed in the dental office or at a lab. It is important to understand the pros and cons of a soft versus hard denture reline.
Soft Reline: This is typically the preferred option due to its more gentle and convenient approach. Soft relines are often done in the dental office while you wait and relies on a liquid polymer to layer the underside of the denture. Adding depth, cushion and weight to your existing denture allows it to accommodate the bone loss and fit more securely. Soft relines may need to be performed more often than a hard reline, but they are generally more comfortable and faster.
Hard Reline: A hard reline reshapes a denture in the same way as a soft reline, but it is accomplished with a much harder and less porous material. While it involves stronger material and the possibility of being sent off to a lab, hard denture relines offer longer-lasting results and a less frequent need for future relines compared to soft relines.
Are your removable dentures feeling loose or uncomfortable? Don't dismiss it. It could be time for a denture reline. At Muccioli Dental, we proudly offer a full range of restorative dentistry options as well as the repair and maintenance services you may need for your prosthetic teeth. Call today to schedule your removable denture consultation or denture reline in Johns Creek.
Posted on behalf of Dr. Randy Muccioli, Muccioli Dental
Muccioli Dental - Johns Creek Dentist
6300 Hospital Pkwy, Suite 275
Johns Creek, Georgia 30097
Phone: (678) 389-9955