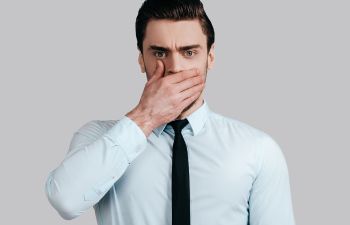 When most people think of mouth guards, they tend to think of sports and physical activities. However, there are other reasons many people wear mouth guards. Many people are in need of protecting their teeth during the night from clenching and grinding. While there are options available at the local drug stores, custom fitted mouth guards are the most effective.
At Muccioli Dental, we offer comprehensive dental services including custom mouth guards that are constructed of high quality materials. The high quality materials allow them to feel comfortable in the mouth, and the custom fit allows the mouth guards to stay in place and do their job correctly. Muccioli Dental features an on-site dental laboratory that is staffed with dental lab technicians. With our laboratory on site, we are able us to fabricate mouth guards and closely control the fit and quality for each patient.
Just a few years ago, patients who needed custom fitted mouth guards had to make multiple appointments to the dentist's office to try on their mouth guards and then have them sent back to a laboratory for adjustments. Thanks to the innovative on-site dental facilities at Muccioli Dental, our patients do not have to waste their time with multiple dental appointments. Drs. Randy and Lydia Muccioli work together to provide premium dentistry for all of their clients. If you are looking for a dental practice that provides customized mouth guards, contact Muccioli Dental today. We are currently accepting new patients, and we accept most forms of dental insurance.
Posted on behalf of Dr. Randy Muccioli, Muccioli Dental
Muccioli Dental - Johns Creek Dentist
6300 Hospital Pkwy, Suite 275
Johns Creek, Georgia 30097
Phone: (678) 389-9955