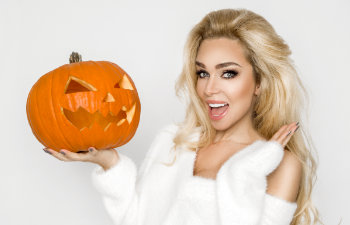 October is here, and with it comes the joy of Halloween! Costumes, pumpkins, and of course, the delightful abundance of candy. As your trusted dental care providers in Johns Creek, we want to ensure that your Halloween celebrations are filled with fun while keeping your dental health in mind. Here is a closer look at the impact of Halloween candy on your teeth as well as some helpful tips on how to enjoy the treats responsibly.
The Not-So-Sweet Reality of Halloween Candy
We all know that excessive candy consumption is not the best thing for our teeth, but it's challenging to resist the allure of the sugary delights that fill our trick-or-treat bags. When we indulge in candies, especially for an extended period, the sugars and acids can wreak havoc on our dental health.
Candy to Watch Out For
Not all Halloween candies are created equal when it comes to their impact on dental health. Here's a list of candies that you might want to enjoy in moderation or avoid altogether:
1. Sticky and Chewy Candies:
Candies like caramels, taffy, and gummy bears are not only loaded with sugars but are also sticky and tend to cling to the teeth. This prolonged exposure to sugar can lead to a higher risk of tooth decay and cavities.
2. Sour Candies:
While many enjoy the tangy punch of sour candies, they are double trouble for dental health. Their high acidic content can erode tooth enamel, leaving teeth vulnerable to decay.
3. Hard Candies:
Hard candies may seem harmless since they dissolve in the mouth, but they are actually a common cause of dental emergencies. Biting on hard candies can lead to chipped or cracked teeth.
4. Candy with Coloring Dyes:
Candies with intense coloring dyes may stain your teeth over time, leading to discoloration and a less-than-sparkling smile.
Candy to Choose Wisely
While it's essential to enjoy Halloween treats responsibly, some candies are less harmful to your dental health and can be savored in moderation:
1. Dark Chocolate:
Dark chocolate contains less sugar than many other candies and has antioxidants that can benefit overall health. Enjoy a piece or two, and remember to brush your teeth afterward.
2. Sugar-Free Gum:
Sugar-free gum, particularly those sweetened with xylitol, can actually be beneficial for your teeth. Chewing gum stimulates saliva production, which helps wash away food particles and neutralize acids in the mouth.
3. Nut Treats:
Nuts, like almonds or peanuts, can be a healthier alternative to traditional candies. They provide protein and healthy fats, and their crunchy texture can help clean the teeth.
Top Tips for a Tooth-Friendly Halloween
At Muccioli Dental, we encourage you to keep the following tips in mind for Halloween this year:
Moderation is Key: Encourage your family to enjoy Halloween candy in moderation. A little treat here and there is fine, but excessive consumption can lead to dental problems.
Drink Water: Drinking water throughout the day, especially after indulging in candies, helps rinse away sugar and acid from the mouth.
Timely Treats: Enjoy candies during mealtime rather than as frequent snacks. Increased saliva production during meals can help counteract the harmful effects of sugar.
Oral Hygiene Routine: Maintain a consistent oral hygiene routine, including brushing twice a day with fluoride toothpaste and flossing daily.
Post-Halloween Dental Checkup: Schedule a post-Halloween dental checkup and cleaning to ensure any potential issues are detected early and to keep your smile in top shape.
At Muccioli Dental, we care about your dental health all year round, including Halloween. Our friendly team is here to support you and your family in maintaining healthy smiles. Have a fun and safe Halloween, and remember to enjoy your treats responsibly!
For personalized dental care and post-Halloween checkups, contact Muccioli Dental in Johns Creek, and let us help you maintain a spooktacular smile.
Posted on behalf of Dr. Randy Muccioli, Muccioli Dental
Muccioli Dental - Johns Creek Dentist
6300 Hospital Pkwy, Suite 275
Johns Creek, Georgia 30097
Phone: (678) 389-9955