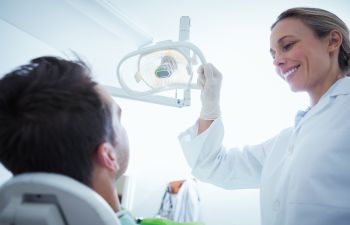 Are you doing what it takes to keep your smile healthy? While there are countless things that influence your oral health, there are four main factors that are not up for debate. Check yourself on the following to understand why your smile health is either up to par or falling behind:
HOW you brush.
Simply picking up a toothbrush and grazing it across your teeth isn't going to suffice. In fact, brushing the wrong way may be causing more harm than good. Pay attention to how you brush, which includes the type of toothbrush, the angle and pressure of your toothbrush, your toothpaste as well as how long your brushing sessions last. You should be brushing for two minutes, twice a day and covering all visible surfaces of your teeth down to your gum line. Don't forget to brush your tongue!
IF you floss.
Are you diligent about brushing but negligent on flossing? If so, you are only cleaning about two-thirds of your tooth surface. It is critical to pick up your floss daily and clean between your pearly whites. This is a primary weapon against many oral health problems, ranging from bad breath to serious gum disease.
WHAT you eat.
The foods and drinks you consume have a significant impact on the health of your smile. You've likely heard the buzz about sugar causing cavities. However, did you know that acidic foods and drinks are just as bad for your teeth. Acidic drinks like soda and sports drinks erode your tooth enamel, which leads to discoloration and decay. Large amounts of sugary and highly acidic menu choices will make it much more difficult to keep your teeth in optimal condition.
WHEN you see the dentist.
There is a reason that you should see your dentist every six months. A professional cleaning and exam can accomplish far more than you can at home. Remember that once plaque has hardened, only a dentist can properly remove this stubborn layer before it threatens your oral health. In addition, routine dental x-rays can detect problems that can be treated or monitored before they present disruptive symptoms.
A healthy smile is a confident smile. At Muccioli Dental, we want to make every patient aware about what impacts their dental health the most. If you are careful with your dietary choices and you brush, floss and see the dentist on a recommended basis, you are well on your way to a five-star smile. Our practice also evaluates other factors that may be threatening your dental health, including potential teeth grinding habits, dry mouth caused by a certain medications or even crowded and misaligned teeth.
Posted on behalf of Dr. Randy Muccioli, Muccioli Dental
Muccioli Dental - Johns Creek Dentist
6300 Hospital Pkwy, Suite 275
Johns Creek, Georgia 30097
Phone: (678) 389-9955