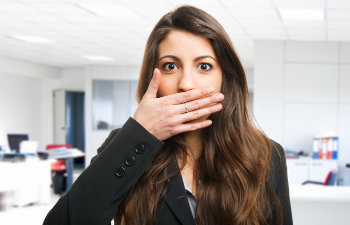 Nothing ruins your smile confidence more than bad breath. Stinky mouth odor can impact your relationships and your career. While halitosis is an embarrassing oral health condition, it is also very common. Did you know that over 80 million people suffer from chronic bad breath? Fortunately, our dentists at Muccioli Dental can relieve your bad breath – but we must first determine its cause.
Reasons for Halitosis
If you are addressing your bad breath with mints or chewing gum, you are only masking the symptom of a greater oral health issue. While there are many factors that can contribute to halitosis, such as an underlying medical condition or medication side effect, the most common culprits can be found within your dental hygiene.
Poor brushing and flossing habits are a leading contributor to chronic bad breath. When food debris and bacteria are left in your mouth after meals and not cleaned properly, your oral bacteria feeds and breeds and emits foul-smelling sulfur compounds in the process.
Your tongue is one of the largest yet unsuspected sources of oral bacteria, especially if you are not brushing your tongue on a regular basis. Bacteria love to live in the dark, moist grooves of your tongue. Since we use our tongue to speak, it can be harder to escape the bacteria-ridden odor that is emitted when we talk.
If your bacteria and plaque buildup get especially thick, it can lead to decay and gum disease. Both of these dental health conditions can cause devastating consequences within your oral health, including issues that go far beyond bad breath.
Bad Breath Relief in Johns Creek
At Muccioli Dental, we will carefully examine your oral health to determine the cause of your bad breath before we recommend treatment. In many cases, we are able to reverse halitosis with a professional cleaning or deep cleaning of your mouth. Some patients may need to ramp up their oral hygiene routine at home, which may include flossing more, using a mouth rinse or brushing their tongue.
We believe that a healthy smile is a confident smile. Don't let bad breath stand in the way.
Posted on behalf of Dr. Randy Muccioli, Muccioli Dental
Muccioli Dental - Johns Creek Dentist
6300 Hospital Pkwy, Suite 275
Johns Creek, Georgia 30097
Phone: (678) 389-9955