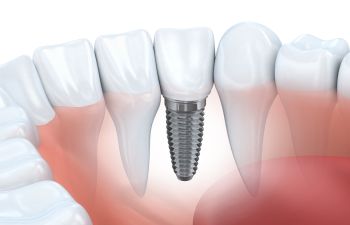 Dental implants are set apart from any other teeth replacement method. Unlike traditional bridges or dentures, a dental implant is firmly anchored into the jaw bone – just like a real tooth! This allows implants to function with remarkable stability and be a permanent restoration for a single tooth or a full arch of missing teeth.
When it comes to the success of a dental implant, there is one key process that must take place – osseointegration. Once the titanium post is surgically inserted into the jawbone, it must fuse or bond to the surrounding bone during the following months of healing. This is natural process known as osseointegration.
The idea behind osseointegration came from a man named Per-Ingvar Branemark. While he didn't invent dental implants, his presentation of his work and application of osseointegration in a Toronto conference helped to spark the concept of how osseointegration could be useful in teeth replacement.
Once the screw-like implant connects with the jawbone (osseointegration), it is stabilized for a lifetime (in most cases). Next, a permanent crown, bridge or denture can be secured on top to create a smile with natural feel, look and function. Implants don't involve dietary restrictions, and they can be cared for just like biological teeth.
Ready to learn more about dental implants or schedule your teeth replacement procedure? Call Muccioli Dental today. We have a team of talented prosthodontists who offer the best in implant dentistry to patients in the greater Johns Creek community.
Posted on behalf of Dr. Randy Muccioli, Muccioli Dental
Muccioli Dental - Johns Creek Dentist
6300 Hospital Pkwy, Suite 275
Johns Creek, Georgia 30097
Phone: (678) 389-9955